Personal Pronouns [Chart, Examples & 5 Types]
Definition
A personal pronoun is used instead of a person's name. For example I, we, you, he, she, it
Personal pronoun stands for three persons:
First person
Second person
Third person
1. First person
I and we denote the person or persons speaking, are said to be personal pronouns of the First Person.
2. Second person
The pronoun you, which denotes the person or persons spoken to, is said to be a personal pronoun of the second person. You is used both in the singular and plural.
3. Third person
The pronouns he, she, it and they, which denote the person/persons/things spoken of, are said to be personal pronouns of the Third Person.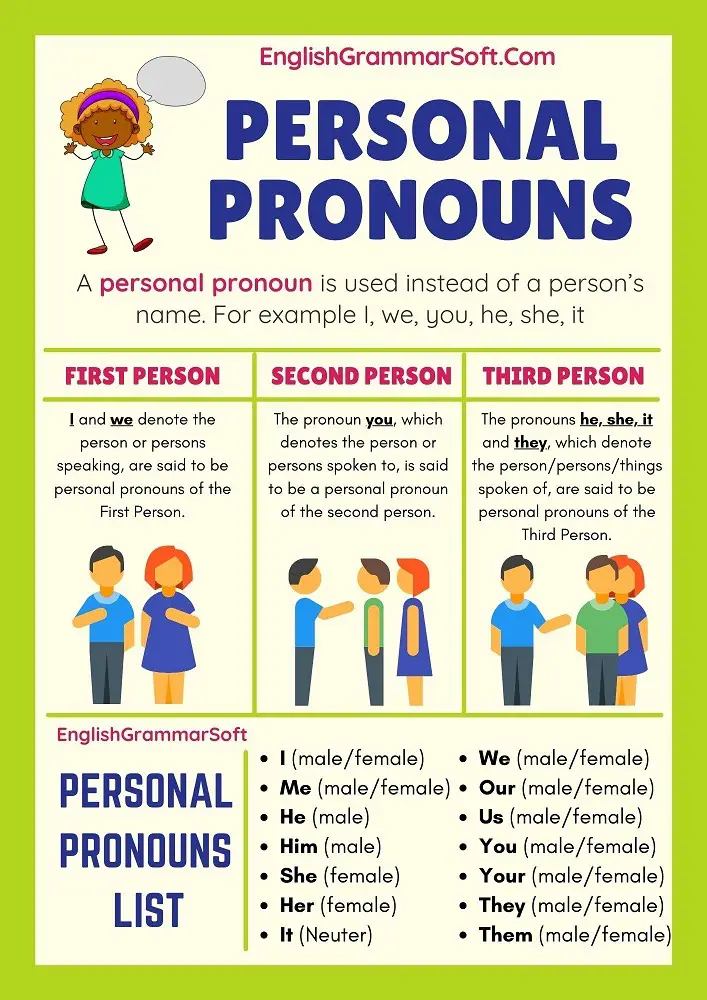 Personal Pronouns Chart
Following chart shows five different cases of personal pronouns.
Person
Subjective
Objective
Possessive
Adjective
Possessive
Pronoun
Reflexive
1st Person
Singular
I
Me
My
Mine
Myself
3rd Person
Singular
He
Him
His
His
Himself
3rd Person
Singular
She
Her
Her
Hers
Herself
3rd Person
Singular
It
It
Its
Its
Itself
2nd Person
Singular & Plural
You
You
Your
Yours
Yourselves
1st Person
Plural
We
Us
Our
Ours
Ourselves
3rd Person
Plural
They
Them
Their
Theirs
Themselves
Personal Pronouns Chart
Types of Personal Pronouns
There are three kinds of personal pronoun.
Subjective Personal Pronoun
Objective Personal Pronoun 
Possessive Adjective
Possessive Personal Pronoun
Reflexive Personal Pronoun
1 – Subjective Personal Pronoun
In subjective case, the pronouns functions as a subject or subject complement. Subjective pronoun comes before the verb.
I, we, you, he, she, it, they used as the subject of a verb.
Examples
I write a letter.
She is a pretty girl.
He drinks water.
We go to school daily.
They write letters.
2 – Objective Personal Pronoun
If the pronouns functions other than subject or subject complement, it is called objective pronoun. The object may be direct or indirect.
me, us, you, him, her, them used as the object of a verb.
Examples
I gave him a book.
I want to go with you.
We met them on Sunday.
They beat us.
Jack saw him and her.
3 – Possessive Adjective
The possessive case shows the belonging or possessions.
my, his, her, its, your, our, their
Examples
They are our teachers.
His pen is this.
These are your books.
4 – Possessive Personal Pronoun
These are used in place of personal pronoun.
mine, his, hers, its, yours, ours, theirs
Examples
My car is new.
That is his house.
This chair is mine.
5 – Reflexive Personal Pronoun
The reflexive pronoun is used before noun, pronoun, adverb or adjective of same clause.
myself, himself, herself, itself, yourselves, ourselves, themselves
I cook dinner myself.
The old man was a strong man himself.
She herself invited the trouble.
We cannot cease protecting ourselves.
You may also like: Parts of Speech Free Posters
List
I (male/female)
Me (male/female)
He (male)
Him (male)
She (female)
Her (female)
We (male/female)
Our (male/female)
Us (male/female)
You (male/female)
Your (male/female)
They (male/female)
Them (male/female)
It (Neuter)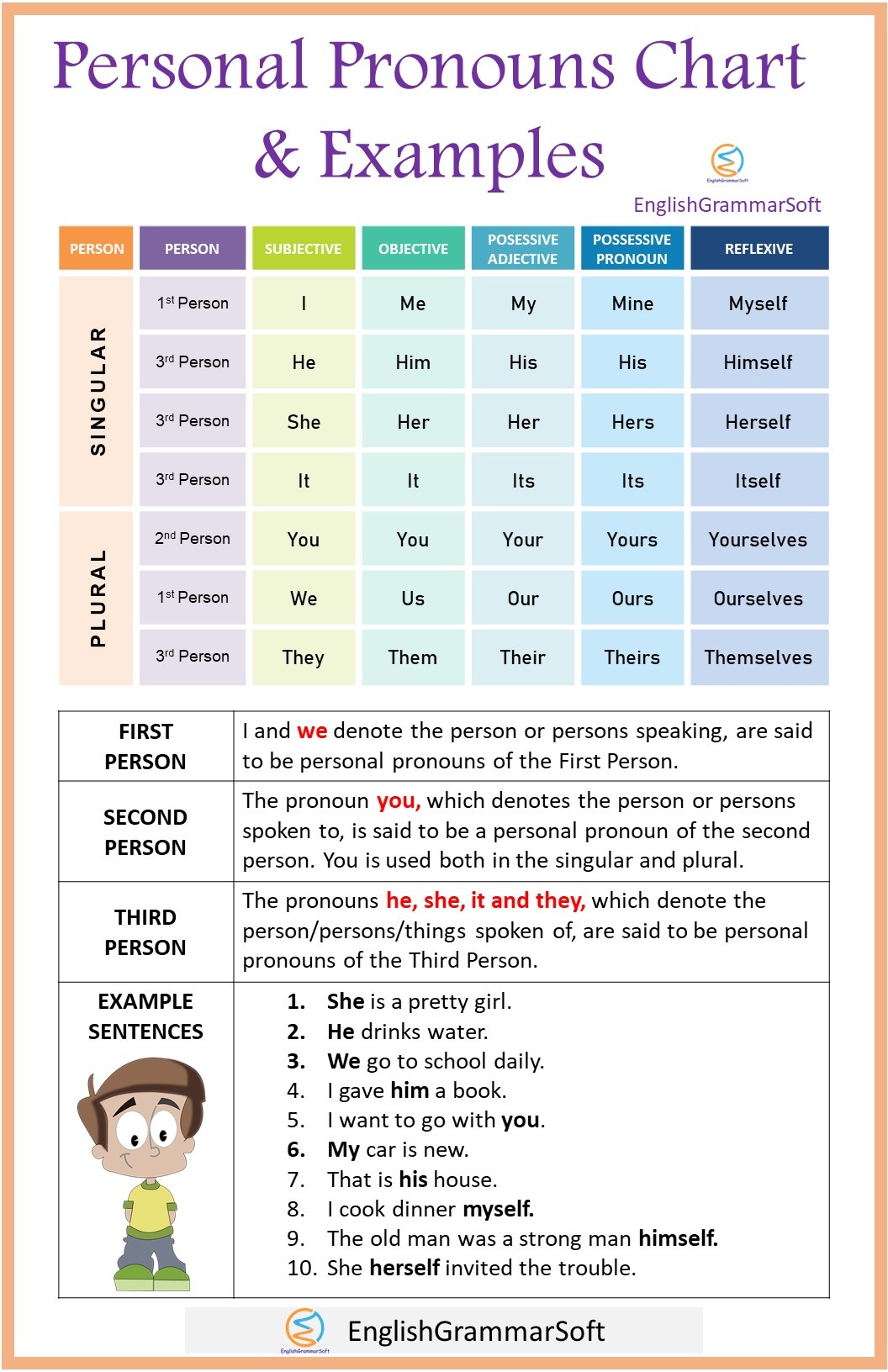 Further Reading