Present Perfect Continuous Worksheet with Answers
Present Perfect Continuous Worksheet
He __________ for two hours. (run)
He __________ flute since evening. (play)
The moon __________ in the sky since night. (shine)
I ___________ Arabian Nights for many days. (read)
She _________ a very interesting topic. (discuss)
Tom __________ for an hour. (walk)
They __________ in this town for many years. (live)
Tamara __________ as HR Manager in this firm. (work)
You _________ to Rome since 2016. (travel)
The farmer __________ crops since last month. (sow)
Answers
He has been running for two hours.
He has been playing flute since evening.
The moon has been shining in the sky since night.
I have been reading Arabian Nights for many days. 
She has been discussing a very interesting topic.
Tom has been walking for an hour.
They have been living in this town for many years.
Tamara has been working as HR Manager in this firm.
You have been traveling to Rome since 2016.
The farmer has been sowing crops since last month.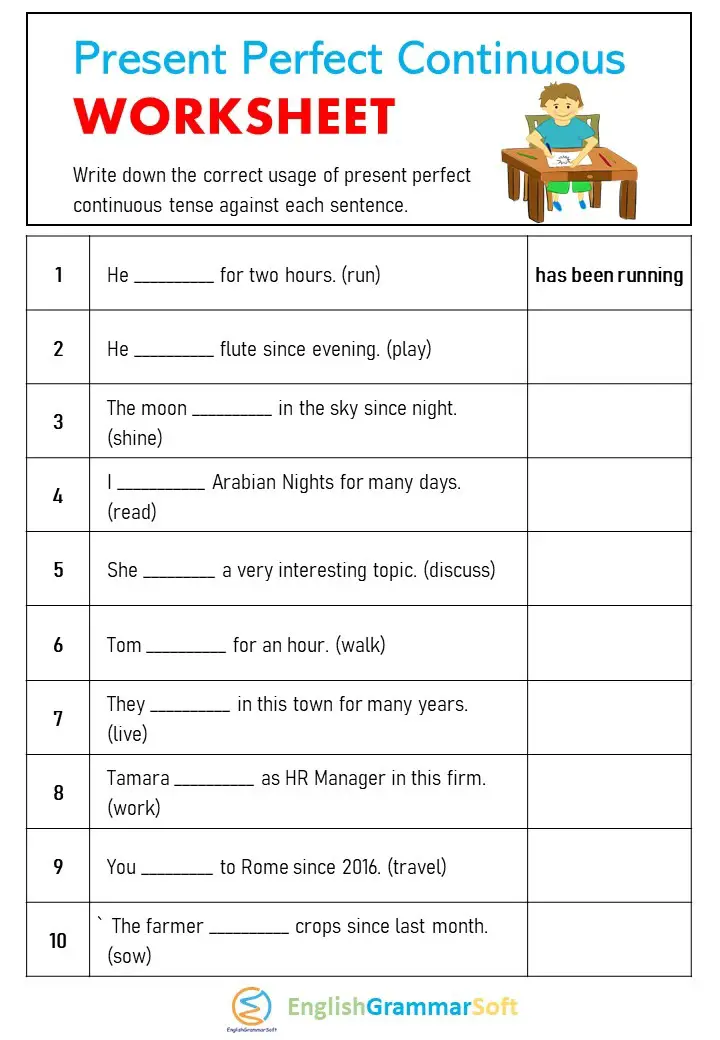 | | | |
| --- | --- | --- |
| AFFIRMATIVE SENTENCES | NEGATIVE SENTENCES | INTERROGATIVE SENTENCES |
| I have been going to the library for many years. | I have not been going to the library for many years. | Have I been going to the library for many years? |
| She has been living in this hostel. | She has not been living in this hostel. | Has she been living in this hostel? |
| Tom has been driving for two hours. | Tom has not been driving for two hours. | Has Tom been driving for two hours? |
| They have been taking exercise. | They have not been taking exercise. | Have they been taking exercise? |
| She has been learning French for two weeks. | She has not been learning French for two weeks. | Has she been learning French for two weeks? |
| The mechanic has been fixing my car since morning. | The mechanic has not been fixing my car since morning. | Has the mechanic been fixing my car since morning? |
| You have been working hard for one year. | You have not been working hard for one year. | Have you been working hard for one year? |
| I have been watching the movie for two hours. | I have not been watching the movie for two hours. | Have I been watching the movie for two hours? |
| The children have been playing in the park. | The children have not been playing in the park. | Have the children been playing in the park? |
| She has been shopping for two hours. | She has not been shopping for two hours. | Has she been shopping for two hours? |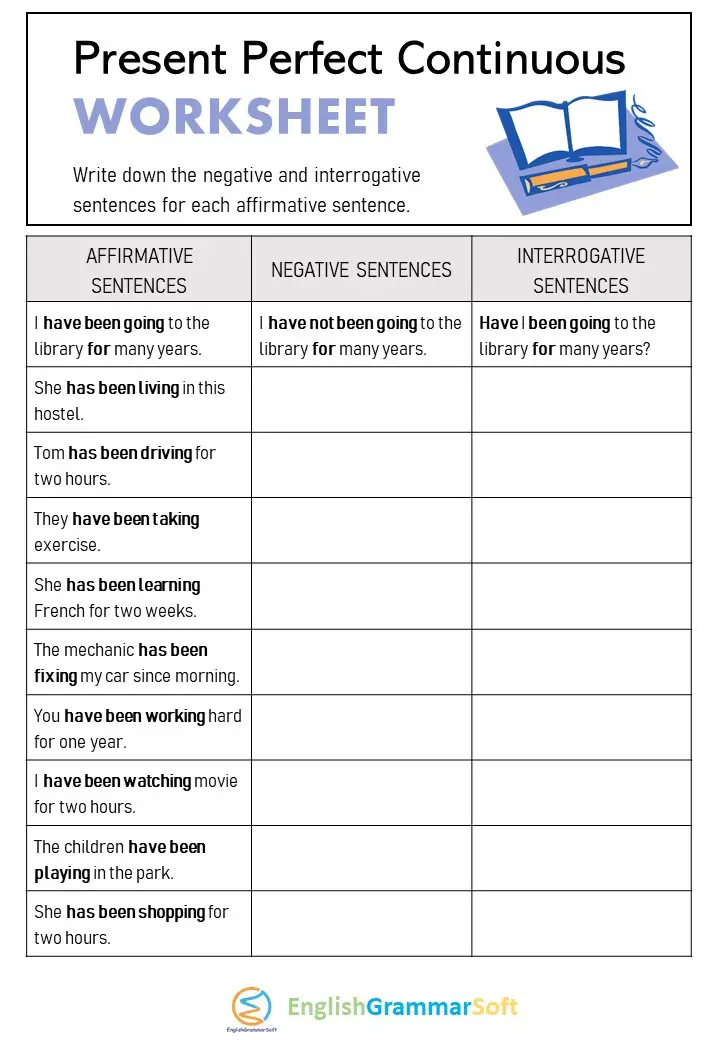 Download Present Perfect Continuous Tense Worksheets pdf
Further Reading