50 Examples of Abstract Nouns (Sentences of Abstract Nouns)
We have compiled 50 example sentences of abstract nouns for you.

50 Examples of Abstract Nouns
Ability:

Tom has the ability to run 10 miles per hour.

Adoration:

She looked at Charles in adoration.

Advantage:

He could not take advantage of the opportunity.

Adventure:

Hiking and traveling are the biggest adventures for me.

Anger:

Bob said loudly, with anger in his voice.

Argument:

The officer heard his all arguments.

Awareness:

They launched a campaign about environmental issues to increase public awareness.

Beauty:

Switzerland is a land of natural beauty.

Belief:

It is my belief that my project will be successful.

Bravery:

Tom has been awarded a medal for his bravery.

Brilliance:

Roberts was respected for his brilliance as a writer.

Brutality:

He accused the police of brutality.

Calm:

I feel inner calm after morning walk and yoga.

Care:

Do you taker care of your parents?

Childhood:

He spent his childhood in this city.

Coldness:

It was the coldness of her attitude that shocked me.

Comfort:

My passive income enabled me to live in comfort.

Communication:

I am in regular communication with him by phone.

Company:

Jon is playing a vital role in the company's growth.

Confidence:

He has confidence in his communication skills.

Confusion:

He has labeled his folders to avoid confusion.

Contentment:

Contentment brings peace to your life.

Courage:

He does not have the courage to speak before the public.

Death:

No medicine works against death.

Deceit:

She was accused of deceit.

Dedication:

He won his promotion with dedication and hard work.

Defeat:

The defeat in the final demoralized the team.

Delay:

The delay in the completion of tasks can shake the trust.

Dream:

Jon had a weird dream.

Education:

Our new-generation needs education and physical activity.

Ego:

Don't oppress others to satisfy your ego.

Fact:

The fact is, I don't like my boss.

Failure:

Failures in life have taught me many lessons.

Faith:

Tom has faith in his abilities.

Fiction:

As far as Tom's work is concerned, it is a kind of fiction.

Freedom:

Freedom of expression does not mean hurting others.

Friendship:

Friendship requires trust and love.

Goal:

Bob is working day and night to achieve his goals.

Happiness:

Spending time in nature brings happiness.

Horror:

Do you like horror scenes in movies?

Intelligence:

Apart from her intelligence, she is very kind to others.

Irritation:

Air pollution is a constant source of irritation.

Joy:

A cheerful friend is a joy forever.

Kindness:

His heart is full of kindness and love.

Love:

Mother's love is the purest love in the world.

Misery:

I lived in misery for many years.

Pride:

Tom was bursting with pride after completing his education.

Satisfaction:

Customer satisfaction is key to success in business.

Sorrow:

I expressed my sorrow at his father's death.

Tiredness:

The feeling of tiredness was creeping over his face.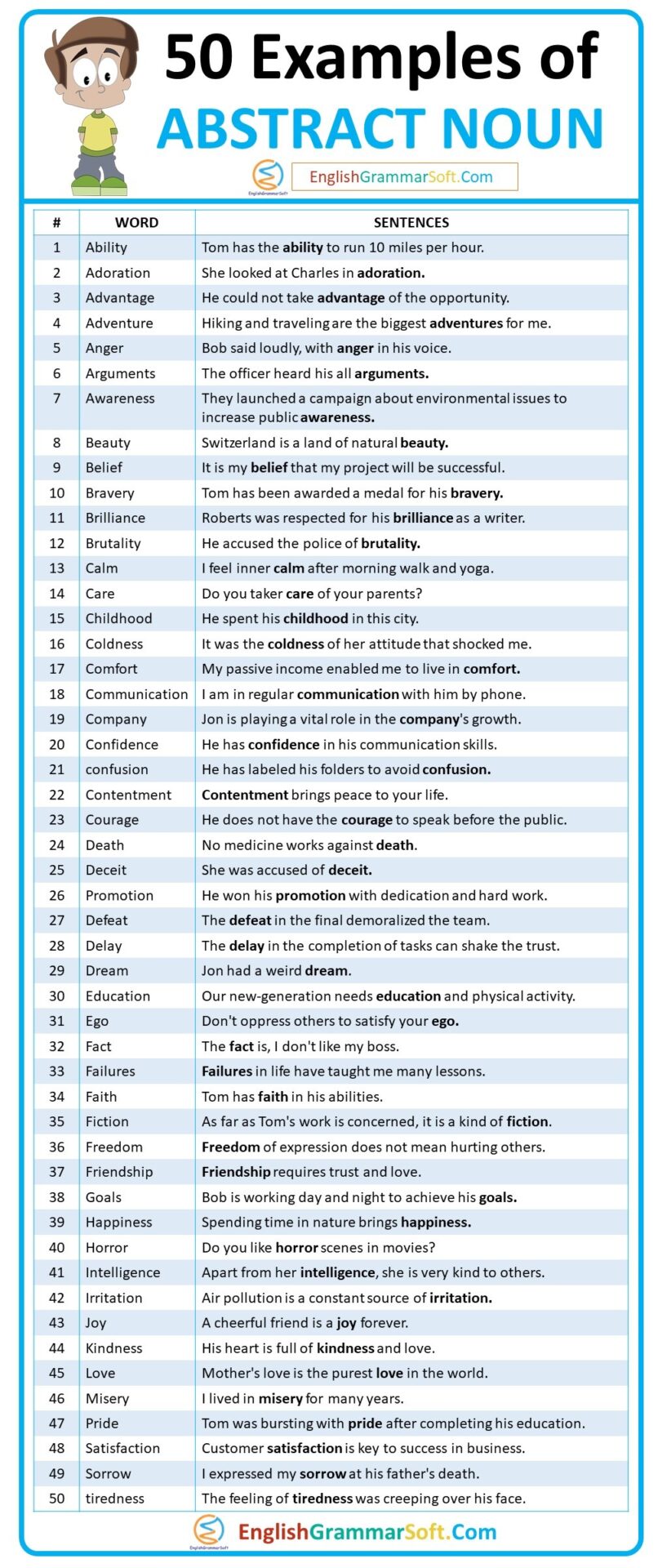 Further Reading