What are Writing Skills? | 8 Important Steps of Writing Process
In this article, we will draw your attention towards important writing skills and how by adopting the same, one can easily overcome the hesitations in writing something.
What you will learn,
1 – What are Writing Skills?
Although, it is an admitted fact that there is no set pattern of writing and it is a complex skill but by adopting and learning these skills, one can easily pour words in its writing.
Writing is one of the most common ways of communication. It allows you to communicate in an evocative manner and a helpful source for the workplace.
It is helpful for the people who are working in different spheres of life who are required to express their feelings, thinking, and presentation for any purpose, etc.
2 – Pre-Writing Exercise
Before start writing, we should have knowledge about the topic or thing. It will become easy for you to write in a fluent manner and without any interruption. Lacking knowledge may cause hindrance in writing.
3 – Instruments of Writing
Knowledge
Ability to express
Ideas
Style guide
Formatting
Situation
Tone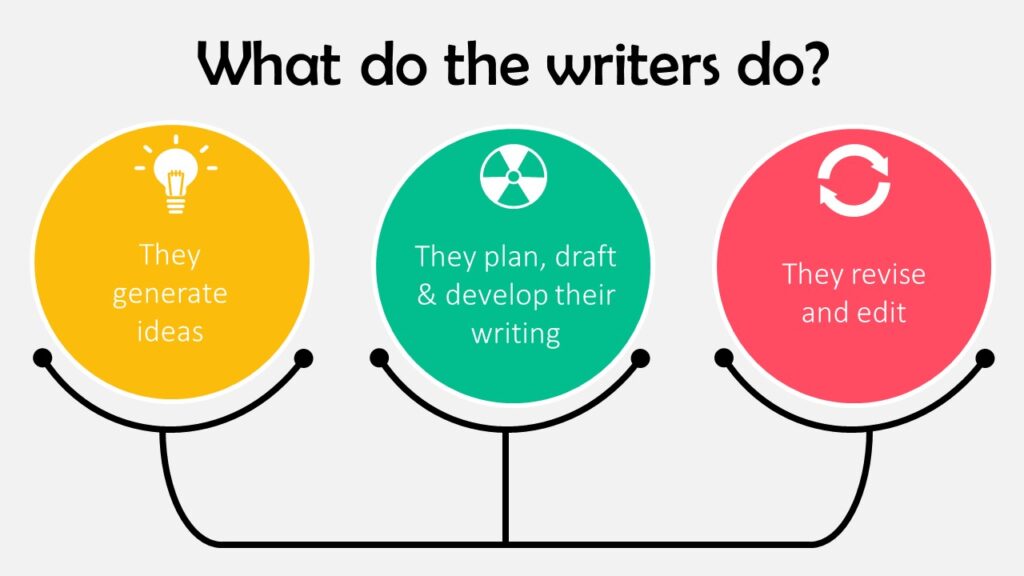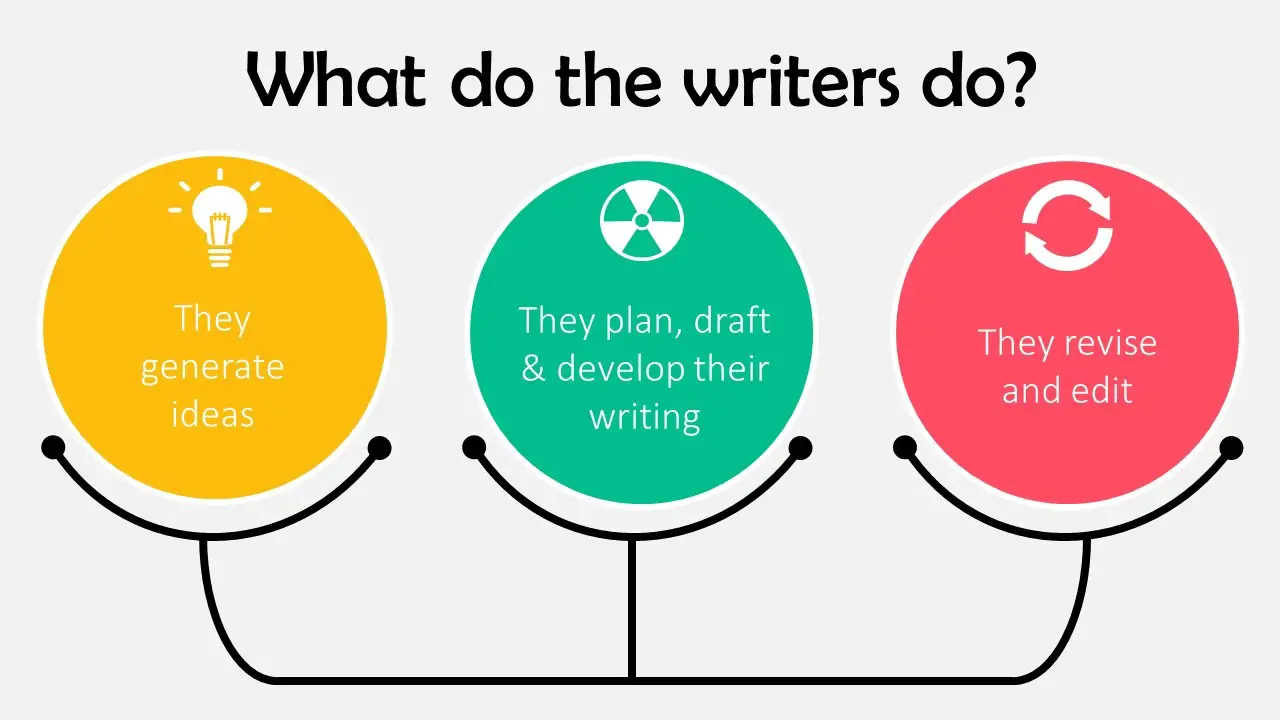 4 – What do the writers do?
For an effective writing nearly all the writers do similar things.
They generate ideas
They plan, draft and develop their writing
They revise and edit
5 – Steps of Writing Process
As writing is a process, it involves certain steps e.g.
Research
Pre-writing
Organizing Ideas
Drafting
Revising
Editing
Reading Comprehension
Time management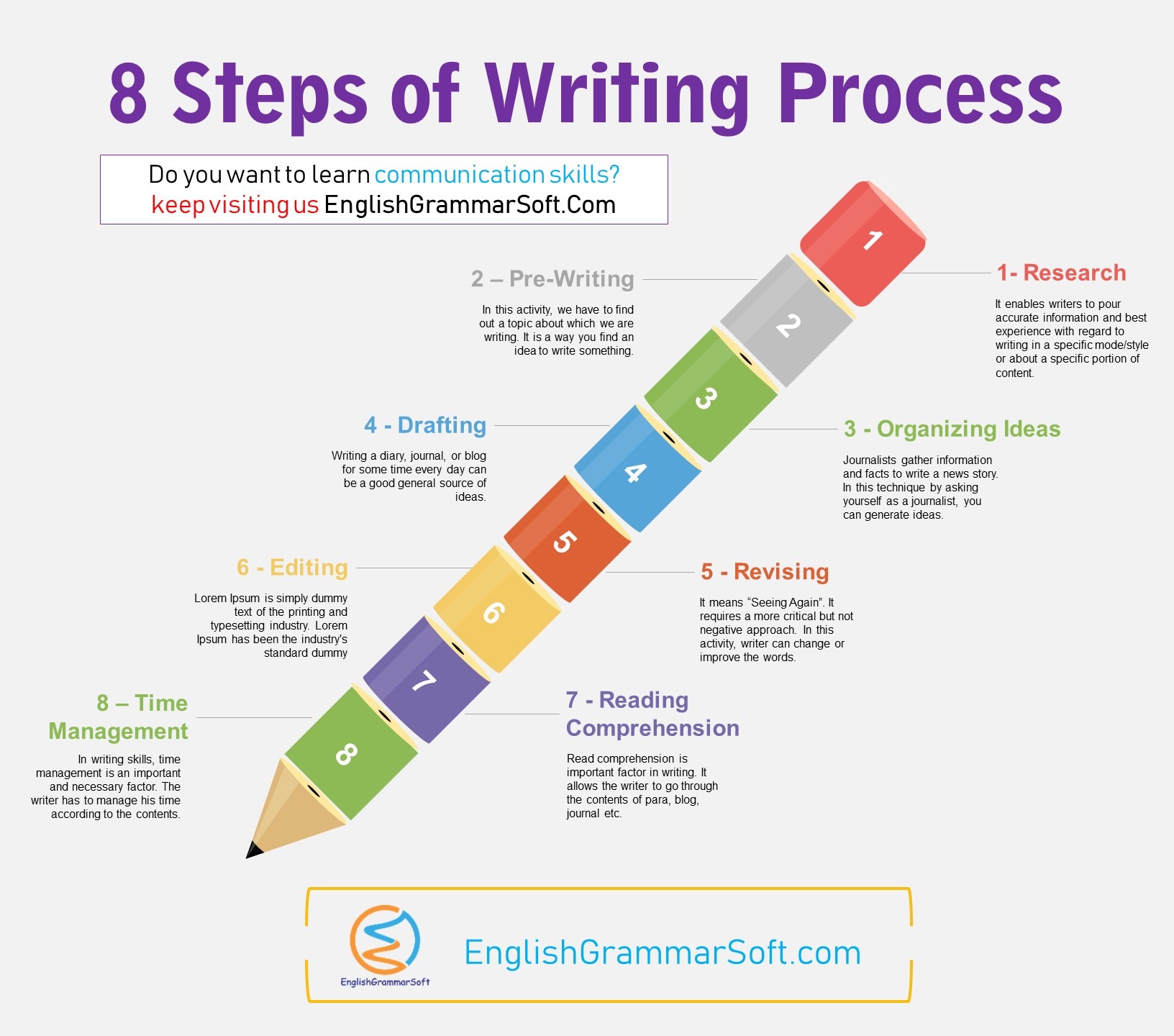 5.1 – Research
Research is the first step in writing process.
It enables writers to pour accurate information and best experience with regard to writing in a specific mode/style or about a specific portion of content.
Writers while writing mostly write about that subject which is not familiar with, so the finding of background about some topic is an easy source to write in a quality manner.
5.2 – Pre-writing
In this activity, we have to find out a topic about which we are writing. It is a way you find an idea to write something.
The topic about which you are writing manifests your personality and it is the mirror of your thinking.
So, choose a good topic for writing. In pre-writing, we use different techniques and strategies to discover and generate ideas.
Following are some of them.
5.2.1 – Grouping
In this pre-writing technique, we have to get material words after gathering words related to it.
We write a word in the center of a page and start writing other words connected to this word. In this way, we produce more grouped words and get material after writing on the topic.
5.2.2 – Free-Writing
It is another prewriting technique in which we continuously write for a set period of time without worrying about grammar spellings and punctuation.
It is a rapid and carefree writing strategy that provides you with some useable sentences. Freewriting increases the flow of thoughts. It increases the flow of ideas. Here you write down whatever comes to your mind. You just keep on producing even you run out of thoughts.
Examples of Free writing
1. A memorable moment
The day I got in my driving license. Boldly speak. Exam room, crowded place, waiting and waiting, candy wrappers on the form.  Everyone seems beautiful than me. My best time, a memorable moment for me and my friend.
2. Listing
In Brainstorming, words or phrases are produced. Unlike free writing, do not write complete sentences. Do not worry about grammar, spellings or even punctuation. Do not judge or skip any idea no matter how silly or illogical it seems in the beginning. You can decide later which one is useful or which one is not. Do this for 20-30 minutes until you think you have enough material.
Examples of Brainstorming
Cell phone
IPad
TV
Tablet
Cable
CDs
DVDs
Too much use?
Always on call- at home, in car, at school always something playing. Spend so much time in electronic world- phone calls, texting, times, watching videos
Unconscious of near happenings. Lack of concentration.
5.3 – Organizing Ideas
Journalists gather information and facts to write a news story. In this technique by asking yourself as a journalist, you can generate ideas.
Simply answer 5 W's and one H (What, When, Where, Why, Who and How). When you start answering, the story begins to develop.
For a topic that is not based on your personal experience, you may need on your personal experience, you may need to do the reading or interviewing to answer some of the questions.
Take an example of the assassination of Gianni Versac and notice how each question can lead to further questions.
Who was Gianni Versac?
What happened to Gianni Versac?
Where was Gianni Versac assassinated?
When was he assassinated?
Why was he assassinated?
How was Gianni Versac assassinated?
5.4 – Drafting
Writing a diary, journal, or blog for some time every day can be a good general source of ideas. It is arranged by date and has space for you to write what has happened over the course of the day.
A journal is a diary in a sense. It can be used to express yourself like a diary but is not necessarily daily activity.
A blog is another form of diary or journal but is digital and on the internet. They are often referred to as online diaries. Many people use blogs to express themselves and to keep them in touch with their family, friends, and society.
5.5 – Revising
It means "Seeing Again". It requires a more critical but not negative approach.  In this activity, the writer can change or improve the words.
Revising the paragraph enables the writer to recall missing words and sentences which were not included while writing.
It can be macro or micro revising. In macro revising we make changes on a large scale while in micro revising we keep our focus on grammar, spellings, and punctuation.
5.6 – Editing
After revising, the writer has to correct the grammatical as well as spellings mistakes so as to avoid any discrepancies in writing.
This activity makes writing readable, understandable, and enjoyable. The important steps in this activity are to focus on words, slow reading the words, and consult the words from the dictionary.
5.7 – Reading Comprehension
Reading comprehension is an important factor in writing. It allows the writer to go through the contents of para, blog, journal, etc.
Reading comprehension makes you confident about your writing and to ensure that the material is ready for publishing. It is considered as the final round of writing.  
5.8 – Time management
In writing skills, time management is an important and necessary factor. The writer has to manage his time according to the contents. Do not consume unnecessary time in the writing process.
6 – What can I do to improve my English writing skills?
Below are some ideas for improving your writing skills.
Read more:

The more you read, the better writer you'll be. Reading will help you to learn new vocabulary, structure and grammar. Read books, magazines and newspapers that interest you.

Write regularly:

The more often you write, the easier it gets and the better your writing becomes. Try to write at least three times a week or even every day if possible, even if it's only for a few minutes each time.

Use a dictionary:

A dictionary is an excellent tool for learning how words are used in context and can help you improve your ability to express yourself clearly and accurately when writing in English.

Check your spelling:

Make sure that every word is spelled correctly before submitting written work or your work will not be marked!

Write using correct grammar and punctuation:

Grammar helps us to understand what we read or hear; punctuation marks such as commas divide sentences into smaller parts so that we know where one idea ends and another begins; apostrophes (') show possession ('s) or omission ('); semicolons (;) and colons (:).
7 – Let's Play Writing
INSTRUCTIONS:          You are the Secretary of the Board of Directors of Faulkner Enterprises. It is the responsibility to write up the contents of the discussions. Use the prompts given below and write the minutes of the board meeting.
Faulkner/call/meeting/order/10:00/Seven/eight/board members/ present / and / everyone/ read / Rose's/ report / before/ meeting.
/ Faulkner / open / discussion / state / recommendation / make / Rose / that our company / form / consortium / make / turnkey / bid / Tanaku Silicon Project. /
Sweet / ask / government / Tanaku / accept / only / turnkey / bids. /
Rose / say/ Tanaku / accept/ either package or turnkey bids./
However, /he/ sure/ only/ turnkey/ bid/ be/successful. / Sweet/ propose/we/ approach / suitable/ company/ form/ consortium./ Johnson / second/motion. All/ present/ agree./
Why is time management an important part of the writing process?
Time management is an important part of the writing process because it helps you to focus on your goals, reduce stress, and achieve success.
Time management is a skill that can be learned, practiced and improved. The key to effective time management is not only knowing how to manage your time but also doing it consistently.
The benefits of effective time management include:
-Increased productivity
-Reduced stress
-Improved health
-More free time for personal activities
What is the next step in the writing process after drafting? 
Revising is the next step after drafting.
At what stage of the writing process should you focus on improving grammar spelling and clarity?
Should you focus on grammar first? Or should you focus on clarity first? Or should you do them both at once?
The answer is: do them both at once!
You can't fix all of your mistakes at once — there are just too many of them and they're likely spread out through your manuscript in different places — but if you try to fix as many as possible while reading over the text again and again, then eventually all of these little problems will be fixed.
So when editing your book, don't just look for spelling mistakes; look for logic errors too.
Further Reading

29 Ways to Improve Your Writing Skills and Escape Content Mediocrity, courtesy of Henneke at Enchanting Marketing