Do Does Exercises [Worksheet] with Answers
Do you know how to make sentences using do/does. These are the sentence making  patterns
A – Simple Sentences
| | | |
| --- | --- | --- |
| Person | Singular | Plural |
| First | I + do | We + do |
| Second | You + do | You + do |
| Third | He/she/it + does | They + do |
B – Negative sentences
| | | |
| --- | --- | --- |
| Person | Singular | Plural |
| First | I + don't | We + don't |
| Second | You + don't | You + don't |
| Third | He/she/it + doesn't | They + doesn't |
C – Question sentences
| | | |
| --- | --- | --- |
| Person | Singular | Plural |
| First | Do + I | Do + we |
| Second | Do + You | Do + you |
| Third | Does + He/she/it | Do + They |
NOTE:
He includes all males names e.g. Robert, Alex, Jon, and all common nouns like brother, friend, father, and uncle, etc.
She includes all female names e.g. Elizabeth, Mary, and common nouns like aunt, mother, sister, friend, etc.
It includes all types of nouns and pronouns (Singular form of things and animals).
They include all types of nouns and pronouns (plural form of things, people and animals)    
Do Does Exercises
Fill in the blanks by putting "do" or "does".
————you know how to speak French?
————- they write well?
————- she know car driving?
I believe I can __________ it.
Bob _________ whatever he wants on weekend.
———— we have sufficient stock of food?
———— Mary have children?
————– Children have chairs to sit in?
I __________ (not) know the City Bank Manager.
I __________ the electronics' business.
———– your father have a car?
What ——— you do in the afternoon?
———— Shane and Mary have families?
This Town __________ not have a Bank?
John __________ not have his own house?
————- Clara have dues?
This train __________ not stop at the City Centre?
This cab __________ go to the beach.
Where ——– you live?
How ——— it look like?
They __________ not have any problem.
———– your family need a big house?
This machine __________ not work properly?
———– the tea has sugar (in it)?
———– your car need service?
Answers
Do              (Yes I do/No I don't)
Do              (Yes they do/No they don't)
Does          ( Yes she does/No she Doesn't)
Do
Does
Do              (Yes we do/No we don't)
Does          (Yes she does/No doesn't)
Do              (Yes they do/No they don't)
Do
Do
Does         (Yes he does/no he doesn't)
Do             (I watch TV programs)
Do             (Yes they do/No they don't)
Do 
Does
Does          (Yes she does/No she doesn't)
Does
Does 
Do              (I live in Sydney)
Does          (It looks very nice)
Do
Does          (Yes it does/No it doesn't)
Does
Does          (Yes it does/No it doesn't)
Does          (Yes it does/No it doesn't)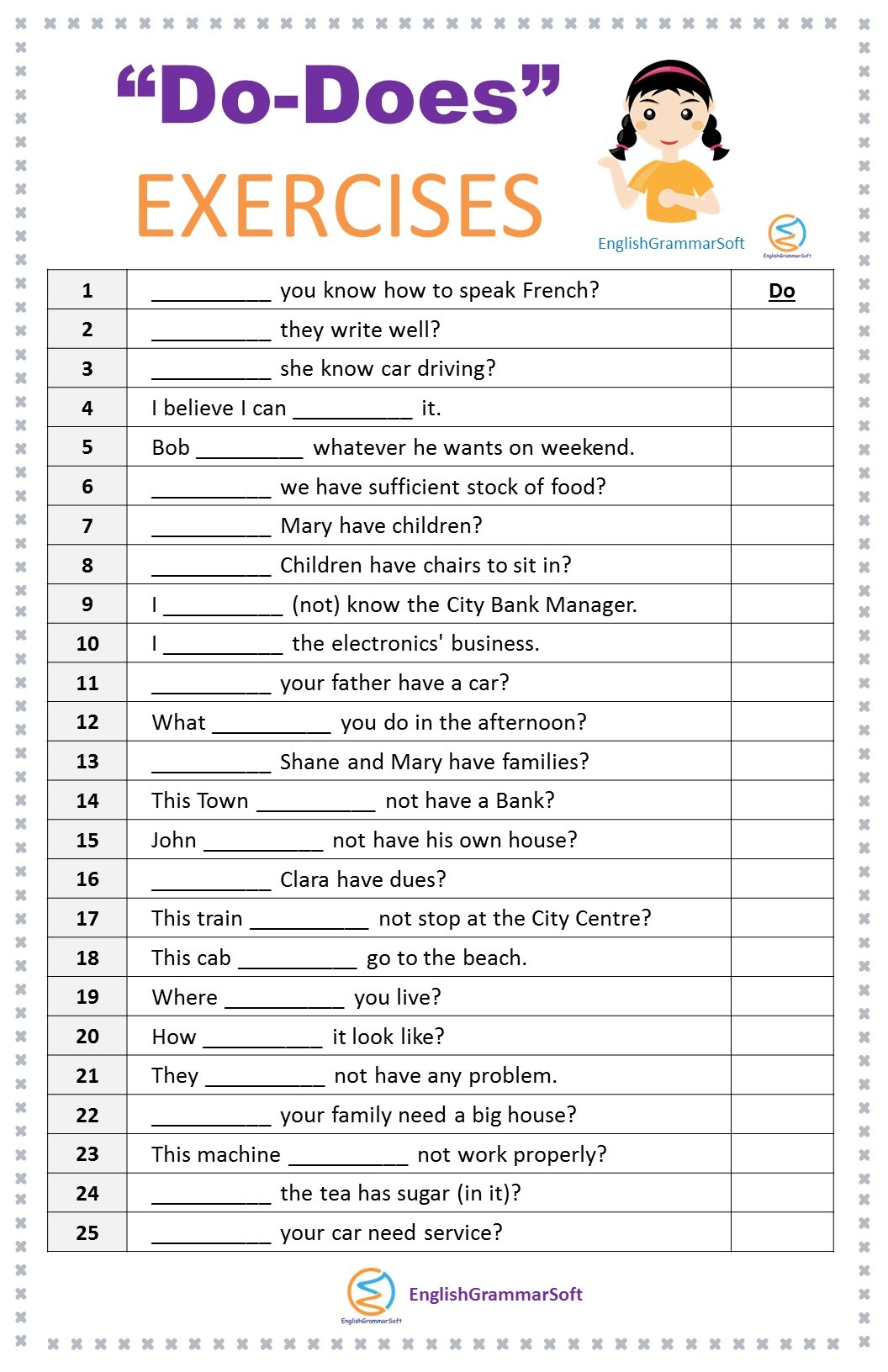 See also