Adverbs Starting with S (List & Examples)
List of Adverbs Starting with S and their example sentences.
Examples
Adverbs Starting with S
Example Sentences
satisfyingly 
There are some restaurants whose food is satisfyingly delicious!
sparingly 
She was satisfied with her daily life, but not as sparingly as she had expected.
scrappily 
The answer to this problem is scrappily derived from the plan you currently have in place.
strategically 
The new alternative option is to collect good supplies at the time of need and strategically store them there. 
screamingly 
I let out a screamingly loud laugh when she told me about her decision.
Screamingly loud colors can help organize the layout of your handbook.
scarily 
The two candidates are scarily similar in their political leanings.
As you finish your shopping list, the total price rings in rather scarily, and you are left with only a few cents in change.
scarcely 
We made sure every supply was scarcely used during the week-long camp.
Scarcely a day goes by without a news story about how cybercrime is on the rise.
smoothly
The project had proceeded smoothly, but it was stalled at a crucial point, and the delay exasperated everyone.
shortly 
She spoke shortly about her job prospects.
shiningly 
The woman stood out from the crowd, shiningly dressed in a red gown.
sheepishly 
The child sheepishly put his head down.
seemingly 
Seemingly harmless, the chemical is severely toxic to children and pets.
The water is seemingly deep, but in reality, it's pretty shallow.
secretly 
Government agents secretly surveilled the group, gathering intel and seeming like nothing was amiss.
She was secretly pleased that she had finally managed to lose weight.
securely 
Securely held in place, the stone did not break.
safely 
When he was safely out of sight, the girl picked up her pencil and began secretly to draw over her worksheet.
sedately 
He walked sedately into the building and up to the front desk.
seasonably 
It is seasonably cold today, and we have six varieties of hot chocolate for you to choose from.
seasonally 
Seasonally appropriate foods aren't necessarily healthy, but some can be as long as you prepare them right.
scantly 
The state department has very scantly commented on this recent trade exchange between the two countries.
satisfactorily 
The case was satisfactorily resolved when the judge imposed a light fine on the defendant.
The recipe can be made satisfactorily without any seafood ingredients.
The job was satisfactorily done, with neat stitching and sturdily sewn buttons.
sacrificially 
The company was accused of acting sacrificially and illegally towards its employees.
safely
I was safely escorted out, but things were not so safe for the other protesters who were arrested.
I kept the secret safely locked away until the right time, and then I told them everything.
sharply 
Sharply reducing my spending will help me to reach my financial goals.
The business needs to be far more sharply priced to be economical.
sacredly 
Sacredly, sacrificial tools make cuts that are as smooth as precise.
The court decided to act more sacredly towards children in a custody agreement.
sadly
It was important for her to say it before someone else did, and she said it sadly.
Adverbs Starting with S
List (260 Words)
Sacredly
Sacrificially       
Sadistically       
Sadly     
Safely    
Sagely
Salaciously
Sanely   
Sarcastically
Sassily   
Satirically
Satisfactorily
Satisfyingly
Saucily  
Savagely
Scandalously
Scantily
Scarcely
Scarily
Scenically
Schematically
Scholastically
Scientifically
Scoffingly
Scornfully
Scrappily
Screamingly
Scrumptiously
Scurvily
Searchingly
Seasonably
Seasonally
Secondarily
Secondly
Secretively
Secretly
Securely
Sedately
Seductively
Seemingly
Selectively
Selfishly
Selflessly          
Semantically
Semimonthly
Semiweekly
Sensationally
Senselessly
Sensibly
Sensitively
Sensually
Sentimentally
Separably
Separately
Sequentially
Serenely           
Serially
Seriously          
Seventhly
Severally
Severely
Shakily
Shallowly
Shamefacedly
Shamefully
Shamelessly
Sharply
Sheepishly
Shiftily
Shiningly
Shockingly
Shortly
Shrewdly
Shrilly
Shyly
Sidesplittingly
Signally
Significantly
Silently
Silkily
Similarly
Simply
Simultaneously
Sincerely
Singly
Singularly
Sinuously
Sixthly
Skeptically
Sketchily
Skillfully
Skittishly
Slackly
Slangily
Slantingly
Slavishly
Sleekly
Sleepily
Slenderly
Slickly
Slightly
Slimly
Sloppily
Slowly
Sluggishly
Slyly
Smarmily
Smartly
Smashingly
Smilingly
Smolderingly
Smoothly
Smugly
Smuttily
Snakingly
Sneakily
Sneeringly
Snobbishly
Snugly
Sobbingly
Soberly
Socially
Sociobiologically
Socioeconomically
Sociologically
Soddenly
Softly
Solely
Solemnly
Solicitously
Solitarily
Somberly
Some
Somehow
Sometime
Someway
Somewhat
Somewhere
Somnolently
Sonorously
Soothingly
Sordidly
Sorely
Sorrowfully
Soulfully
Soullessly
Soundlessly
Soundly
Sourly
Southerly
Southwest
Southwestwardly
Spaceward
Spaciously
Sparsely
Spasmodically
Spatially
Specially
Specifically
Speciously
Spectacularly
Spectrographically
Speechlessly
Speedily
Spherically
Spicily
Spinally
Spirally
Spiritually
Splendidly
Spontaneously
Spookily
Sportively
Spotlessly
Sprucely
Squalidly
Squarely
Stably
Staggeringly
Staidly
Stanchly
Starkly
Statistically
Statutorily
Staunchly
Steadily
Stealthily
Steeply
Stereotypically
Sternly
Stickily
Stiffly
Stiltedly
Stingily
Stochastically
Stockily
Stoically
Stolidly
Stonily
Stormily
Stoutly
Straightforwardly
Strangely
Strategically
Strenuously
Strictly
Strikingly
Strongly
Structurally
Stubbornly
Studiously
Stuffily
Stunningly
Stupidly
Sturdily
Stylishly
Subconsciously
Subcutaneously
Subjectively
Sublimely
Submissively
Subsequently
Substantially
Substantively
Subtly
Successfully
Successively
Succinctly
Suddenly
Sufficiently
Suitably
Summarily
Sumptuously
Superbly
Superficially
Superfluously
Superlatively
Supernaturally
Superstitiously
Supposedly
Supremely
Surely
Surgically
Surpassingly
Surprisingly
Suspiciously
Sweepingly
Sweetly
Swiftly
Swimmingly
Syllabically
Symbiotically
Symbolically
Symmetrically
Sympathetically
Synchronously
Synonymously
Syntactically
Synthetically
Systematically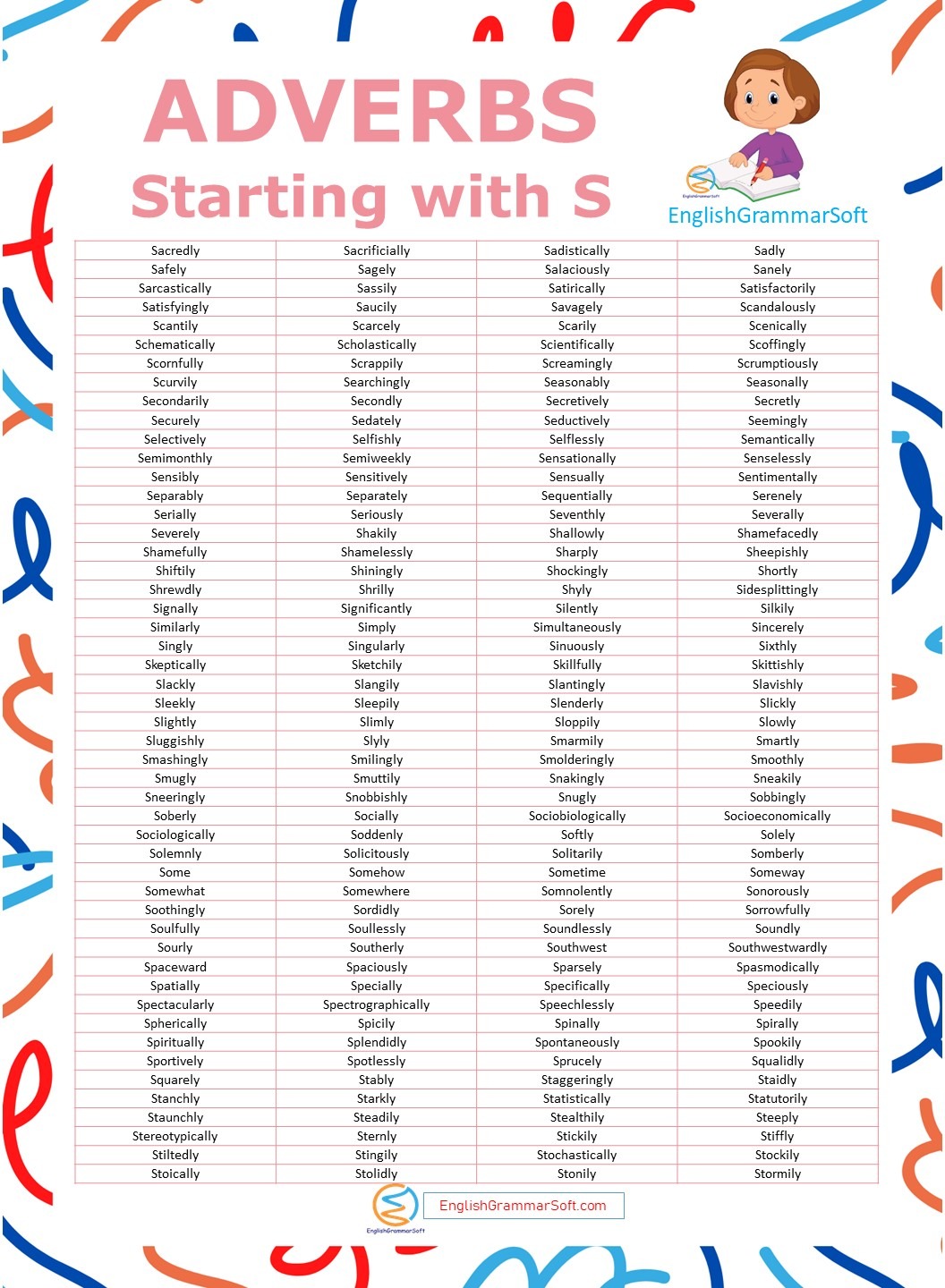 Read also