Oxymoron Examples from Literature
History and Etymology of Oxymoron:
It was first known use in 1657.
Late Greek oxymōron, from neuter of oxymōros pointedly foolish, from Greek oxys sharp, keen + mōros foolish
It is a common device, closely related to antithesis and paradox, especially in poetry, and is of considerable antiquity. It is a rhetorical antithesis bringing together two contradictory terms. There are many splendid instances in English poetry. It was particularly popular in the late 16th century and during the 17th century.
Definition
A contradiction of terms pairing two words together that are contradictory.
A figure of speech that combines incongruous and apparently contradictory words and meanings for a special effect.
It is a figure of speech in which two words or phrases of opposite significance are set together for effect.
What is oxymoron?
Oxymorn is linguistic figure of speech based on combining two opposite words to create a new concept.
A classic example is "jumbo shrimp" which literally means a small shrimp that lives in the ocean. There are many examples of oxymoron in English language, these include: "cruel kindness", "accidental strike", and "gentle giant".
Examples of Oxymoron
The celebrated remarks of Lamb's are best example of oxymoron: I like a smuggler. He is the only honest thief'.
We'll use plastic glasses at the picnic.
The student teacher explained how to complete dissertation editing.
The gossip is old news.
The lady he eventually married is painfully beautiful.
Wow! This ice cream is disgustingly delicious.
Be careful in the playground, run slowly.
Your apple pie is awfully good.
A small crowd gathered to watch the concert.
It's an open secret that they have been having an affair for the past six months.
Oxymoron Examples in Literature
1. A famous example occurs in "Romeo and Juliet", when Romeo jests about love:
"Here's much to do with hate, but more with love.
Why then, O brawling love! O loving hate!
O anything! Of nothing first create!
O heavy lightness! Serious vanity!
Mis-shapen chaos of well-seeming forms!
2. In Paradise Lost, Milton has precious bane (used of the gold in hell) and raised to that bad eminence (of Satan).
Someone has thus neatly combined the contrarieties of the telephone as a boon and a curse:
'O precious bane,
Tormenting joy,
Dividing chain,
Exacting toy".
3. John Keats loved occasionally to indulge herself in a fit of pleasing melancholy.
James I was the wisest fool in Christendom
A little noiseless noise among the leaves
Born of the very sigh that silence heaves.
4. Other well-known examples are Milton's description of hell in Paradise Lost:
No light, but rather darkness visible
5. And Pope's reference to man in "Essay on Man":
Plac'd on this isthmus of a middle state,
A being darkly wise, and rudely great.
6. Goldsmith has some striking ones in The Deserted Village:
Where grey-beard mirth and smiling toil retired
The toiling pleasure sickens into pain
7. A particularly well-known example comes in Tennyson's Lancelot and Elaine:
The shackles of an old love straiten'd him
His honour rooted in dishonor stood,
And faith unfaithful kept him falsely true.
8. Almost as well-known are these lines in Francis Thompson's The hound of Heaven:
I tempted all His servitors, but to find
My own betrayal in their constancy,
In faith to him their fickleness to me,
Their traitorous trueness, and their loyal deceit.
9. I am a deeply superficial person.
"Andy Warhol"
Can a phrase be an oxymoron?
Yes, a phrase can be an oxymoron. Phrases "cruel kindness", "reluctant acceptance" and "painfully beautiful" are examples of oxymoron.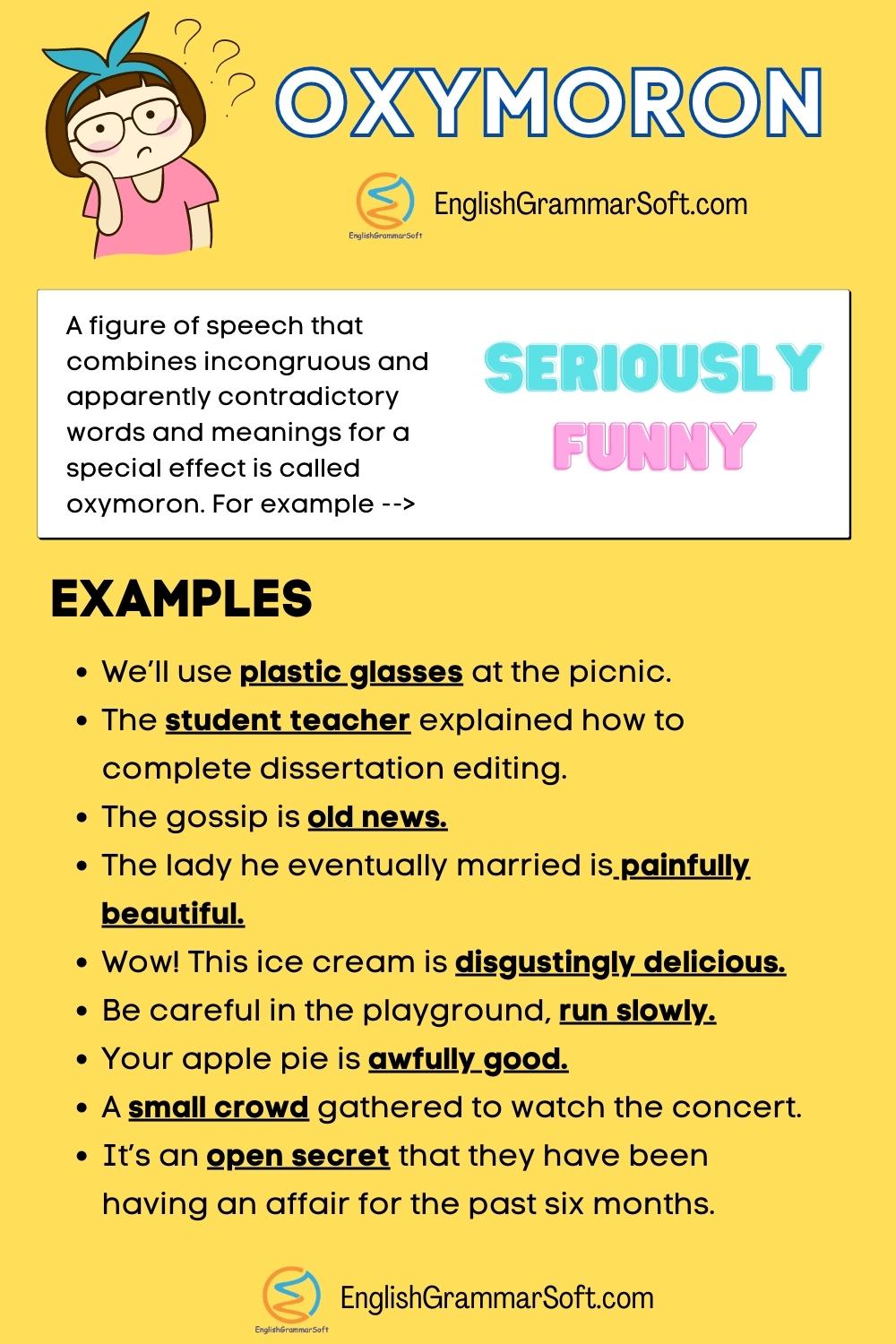 Further Reading