What is a simile in literature? How to write a good simile?
What is a simile?
Simile is a figure of speech that is used for a comparison between two different things. These two things must have one thing in common.
In a simile, we use these words like, as or so. A simile is a common form of figurative language.
Examples
Sara is as slow as a tortoise.
He is as brave as a lion.
Tom is like an angel.
Similes in Daily Use
Similes are used in everyday speech. We use a simile in everyday speech to convey meaning quickly and accurately.
When someone says "He is as brave as a lion." Here you will see a boy whose bravery is compared to a lion. The literal phrase would understand "He is brave" but using the simile makes it sound much better.
Example
As tall as a mountain.
As sweet as sugar.
As cute as a kitten.
As cold as ice.
As red as a rose.
As black as coal.
As tall as giraffe.
As strong as iron.
As deep as an ocean.
Common examples of simile in language
A similes is a common form of figurative language. It can make our language descriptive. Writers, poets, and songwriters make use of similes to add depth in their writing. Similes can be funny, mean, serious, or creative.
Examples
They were as brave as a lion.
She like an angel.
Love is patient and so is my mother.
Our soldiers are as strong as an ox.
The day is as bright as the sun.
Her mind is as cool as a cucumber.
He is as busy as a bee in his school working.
Our school principal is very strange. He is as mad as a hatter.
This fabric is as light as a feather.
He was thirsty. His throat was as dry as bone.
Anwar slept very late last night, but he was as fresh as a flower.
She cries like a child.
He runs like a horse.
Alice is like a doll.
My sister is as quick as the wind.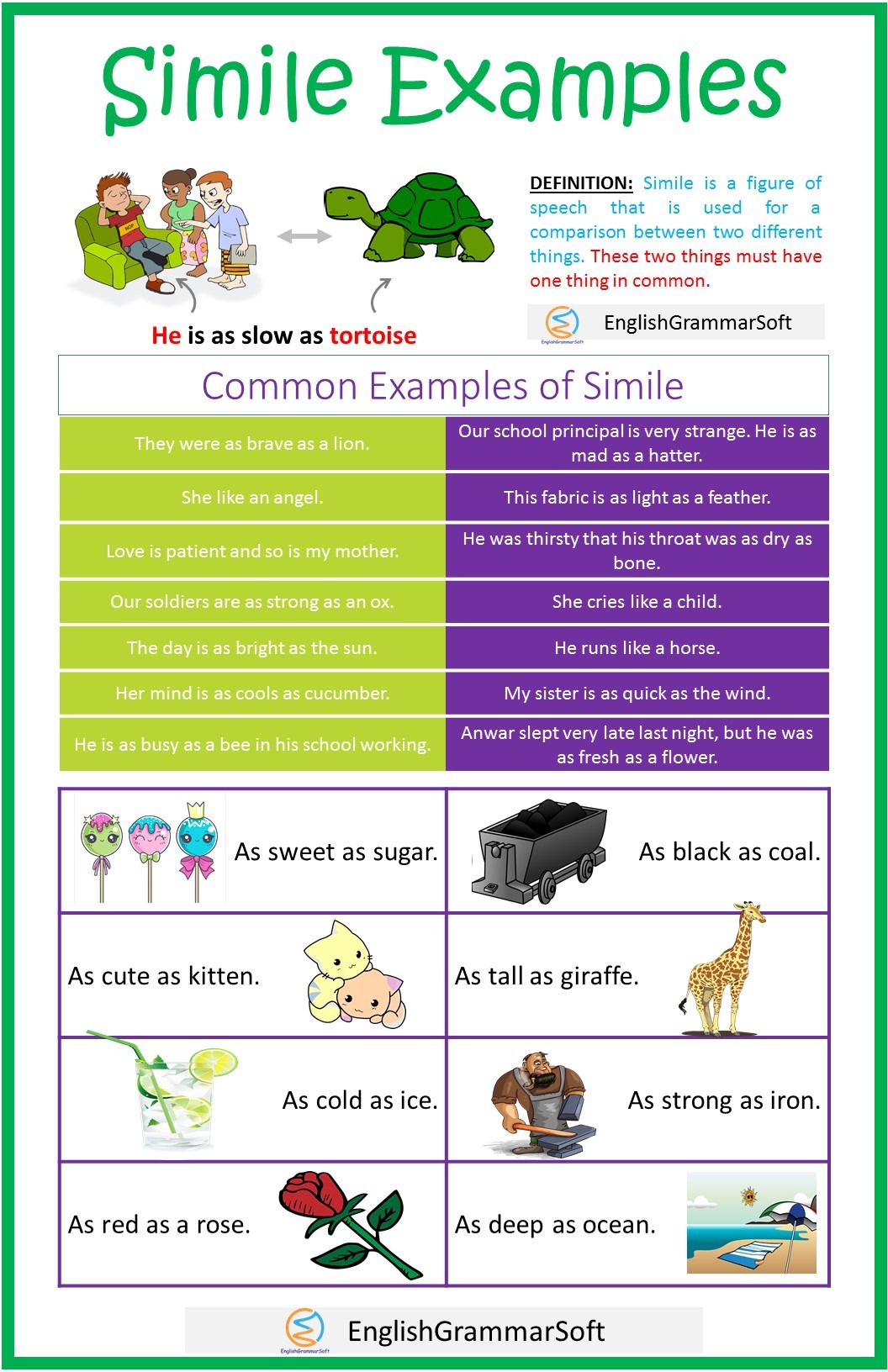 Similes in poem lyrics
Poets always used similes in their lyrics. Simile makes the language more descriptive and enjoyable and easy to understand for readers or listeners.
Poem
My School
My school is like a home away from home,
when I go there, I am never alone.
My classmates are like my sisters and brothers.
Especially Amma! I sure I am going to miss her.
When I leave this place, I will be as sad as a rainy day.
Unlike rain, my memories never go away.
This year was as along as a highway.
I cannot believe today is the last day.
(In above poem poet used similes first line of every paragraph.
Similes in songs lyrics
Songwriters used simile in their lyrics
The song "Everything at once", in this song similes are used
As sly as a fox,
As strong as an ox,
As fast as a hare,
As brave as a bear,
As free as a bird,
As neat as a word,
As quiet as a mowe,
As big as a house
Ohhhh oh ohh oh oh ohhh
All I wanna be,
is everything
Everything at once
Everything at once
Oh oh oh everything at once.
(In above song lyrics, similes are used in first and second paragraph)
Similes in ads and slogans
Similes are also used in ads and company slogans.
Examples
Honda: The Honda's ride is as smooth as fish in the water
State Farm: Like a good neighbor
Similes in literature
Similes are also found in literature.
Example No.1
"Love for nature" by William Wordsworth
Memory be as a dwelling place
For all sweet sounds and harmonies;
Oh! Then
It solitude, or fear, or pain or grief.
(By choosing simile William Wordsworth describe memory)
Example No.2
"A Red, Red Rose" (by Robert Burns)
"O my Luve's like a red, red rose
That's newly sprung in June;
That's sweetly played in tune."
The poet Robert Burns used simile to describe the beauty of his beloved.
Example No.3
Daffodils (by William Wordsworth
"I wandered lonely as a cloud that floats on high over vales and hills."
In this poem, the poet describes himself as a free cloud that floats alone. By using simile William Wordsworth described his loneliness.
Example No..4
"The Rape of the lock" by Alexander Pope
Bright as sun,
her eyes the gazers strike,
And, like the sun,
she shines on all alike.
In this poem the poet describe her beauty. She is like the sun, not only because of her bright eyes and not only because she dominates her special world.
Example No.5
Othello (by William Shakespeare)
"It is the cause, it is the cause, my soul,
Let me not name it to you, you caste stars!
It is the cause, yet I will not shed her blood;
Nor scar that whiter skin of her than snow and smooth as monumental alabaster."
The last line shows a beautiful use of simile by William Shakespeare where he describes the smooth skin to alabaster.
Simile Function
In all the above discussion and examples, we know that the function similes, both in everyday life and in literature.
By using similes conversation make enjoyable.
Using similes attracts attention, and appeals directed to the senses of readers and listners. It also encouraged their imagination to understand what is being communicated.
It also brings rhythm, life-like quality in our daily speech and literature.
Simile also allow the reader to understand the feelings of writer. Therefore, simile makes it easier for reader to understand the subject matter.
How do similes make writing stronger? 
Similes can make writing more stronger in following ways.
Similes are used to make language more descriptive and engaging.
They are effective for helping the reader create a visual image in their minds.
They give the reader a better picture of what is happening.
They help you show your feelings towards something.
They can make an event or idea more important.
Similes offer opportunities to add detail and clarity to your writing and imagery to your speaking. Often they emphasize the particular qualities of the subject being described, which can be a helpful.
Similes are probably best known for their use in poetry where they make a usually common phrase seem more colorful or creative.
Similes can also be used in speech and be an excellent way of enlivening speeches by making them more striking.
How to write a good simile?
Similes are the easiest of the all comparisons to write. They follow formula,
X is like Y.
A good simile consists of three things:
Simple and clear
Visual
Original
Simple and clear
Use of similes should be simple and clear. You do not need to write tough and hard similes like Shakespeare. Just thing about what you are trying to compare and context you are doing on it.
Visual
A simile describe to point a picture in the reader's or listener's mind about a special character or situation. Make sure that the image is as clear as possible.
Original
This may be tough. In this section avoid those similes that have been used in past, think about the image that you are clear for reader, and do not pick the first comparison that comes to your mind.
This is usually the easy choice, but it won't be as distinct as your second or third idea.
Similes are great literary devices. You should use simple and clear simile for reader's destinations.
This infographic depicts 10 examples of simile with pictures.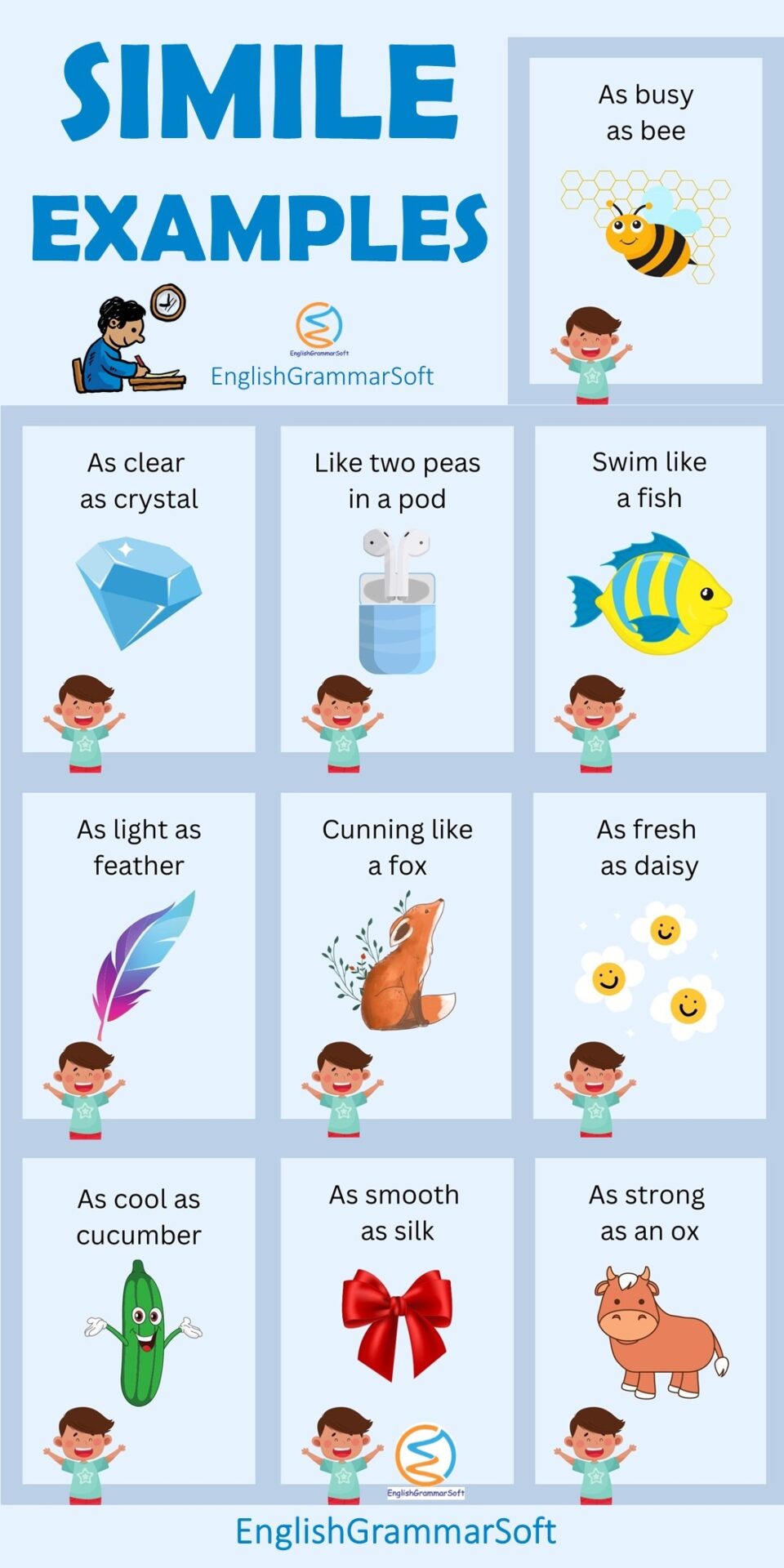 Further Reading