50 Sentences of Articles (A, An, The)
What are Articles in English Grammar
A, an and the are called articles. Articles are the words that modify nouns. They are used before nouns to show what kind of thing we are talking about.
For example:
I have a dog. (Here, the article is 'a'.)
I saw an elephant in the zoo yesterday. (Here, the article is 'an'.)
Where Do We Use Articles in English Grammar?
1. An article is a word that comes before a noun to indicate whether the noun is general or specific.
2. The article can also be used in front of a noun to introduce a sentence and to make the reader expect that the sentence will contain more information about this particular noun.
3. A article is used before singular countable nouns, which usually refer to one item or concept (e.g., you have a car).
4. A article is used before words like 'all' and 'each' when they refer to things that already exist or can be counted (e.g., all the people).
50 Sentences of Articles
The weather is nice today.
What a beautiful day!
I went to watch a movie last night.
There is a car in front of the house.
What an exciting night it was!
A half-written report is a terrible thing.
A positive attitude can help you through tough times.
A crucial decision for any business owner is whether to outsource services.
The potential for networking is huge when attending an event or meeting.
The first thing you need to do is take a look at your resume.
The art world is one of the most competitive careers.
The artist should remember not to take criticism as a personal attack.
The archaic art form is starting to make a resurgence.
Startups are becoming an increasingly popular choice for artists.
A turbine sits near the train station in a tiny town whose economy relies heavily on wind power.
The lavender fields of Provence, in the south of France, produce the best lavender essential oils in the world.
The lighting is good at the event.
The lights are dimmed at the restaurant.
A movie begins, and the audience is silent.
The child might be afraid of dogs.
The area has good fishing grounds.
The town has a beautiful beach.
An older woman comes to see him in his dreams.
The girl wins the first prize in her age category.
A new season means a fresh start to look your best.
A purple purse will prop up any outfit.
A tailored suit is your best choice for an interview.
A good way to start the day is with a healthy breakfast.
The first step is always the hardest.
An artist painted this picture.
Students should look forward to graduation day with a smile.
The reviewer wants to know more about the book.
The company is registering for a new membership.
A cat sleeps in the sun.
An effective sales strategy is something that every business owner needs aside from an excellent product to sell.
I have a pencil, but I do not have an eraser.
This is the pen I bought yesterday.
The novel is a work of fiction; it has no basis in reality but tells a story about people and places that don't exist.
A famous author wrote this novel: her name is Jane Jones.
I live in an old house with a blue door but no windows.
A doctor examined my ankle yesterday afternoon.
He arrived at an unfortunate time.
A good newspaper can't survive bad management.
An excellent service record is a valuable credential when applying for a job.
That cat is an old grey cat.
Jane will wear a black dress to the party, an elegant one and a simple one.
Do you know how to prepare a salad?
A company should be innovative to succeed in the market today.
A poet is a man who suffers when he feels alone but sings when companions surround him.
The book was a good read.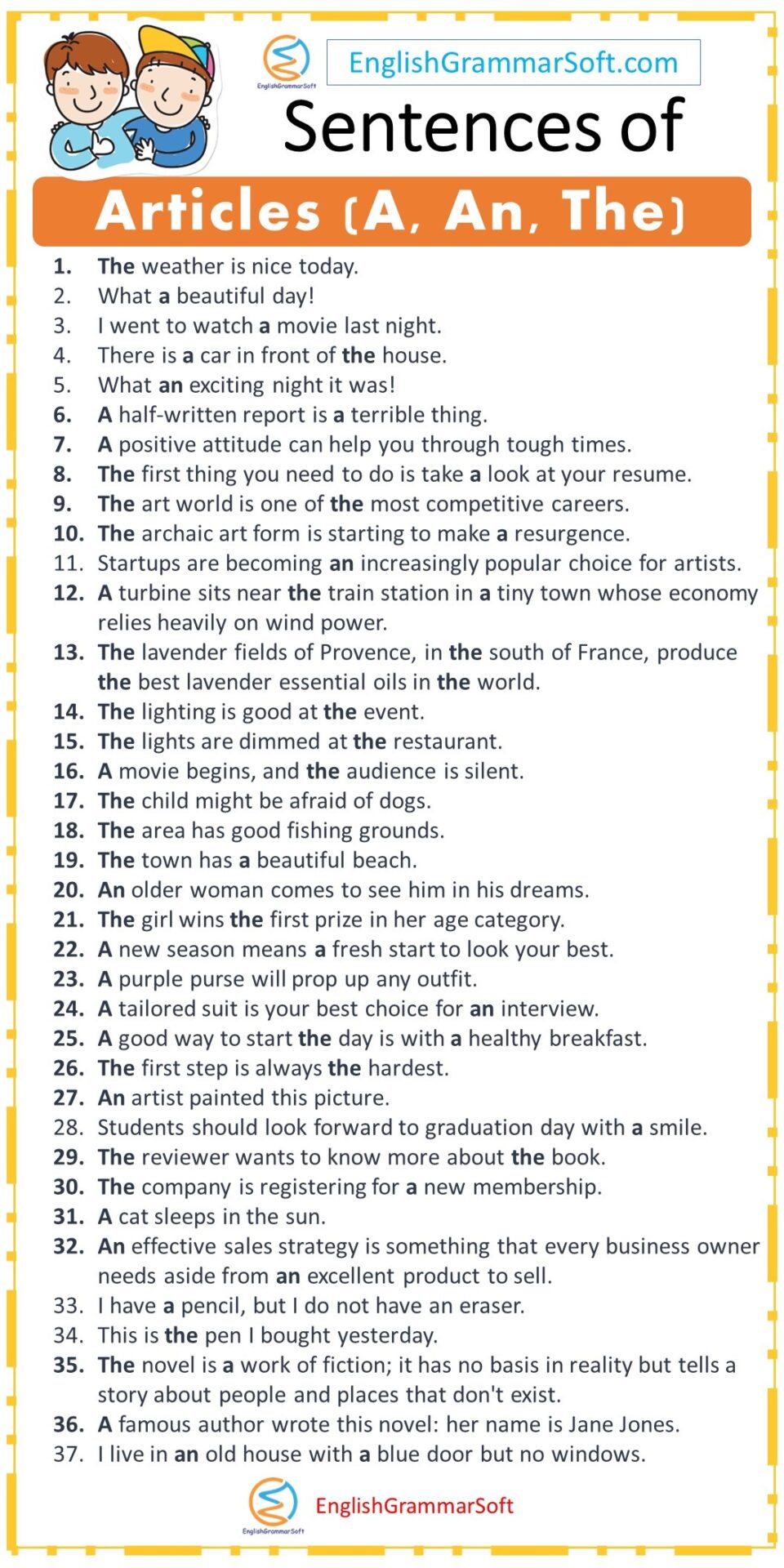 Read also