Ultimate List of 101 New Year Resolution Ideas 2023
We have prepared a list of new year resolution ideas 2023 for you. You may have already adopted some of these points earlier. This list will help you to find out missing points in your previous list.
Lets' dive into it!
List of New Year Resolution Ideas 2023
Aim for 30-minutes-exercise daily.
Eat healthy foods like vegetables, pulses and fresh fruits.
Avoid junk foods like burgers, fries, etc.
Do not eat too much. Always observe your eating behavior.
Keep a close eye on your calories.
Stay hydrated. Drink enough quantity of water.
Prepare a balanced diet plan and stick to it.
Never skip breakfast/meal.
Schedule the visits to the doctor.
Sanitize your things.
Act upon COVID-19 SOPs set by the government.
Quit smoking.
Lose weight.
Floss teeth more often.
Maintain a skincare routine.
Add more healthy items to your grocery cart.
Go to bed on time and rise early.
Don't hit the snooze button.
Write down 2 – 5 things you are grateful each morning.
Start practicing meditation.
Work on your IQ and EQ.
Let go of all grudges.
Admit your mistakes.
Focus one thing at a time.
Anger is your enemy. Avoid it at all costs.
Be kind to others.
Stop judging and thinking about others.
Focus on cleanliness.
Fix a schedule for the cleanliness of your house and environment.
Leave your comfort zone.
Face the person you disagree with and talk to him.
Don't get scared of failures in life, you will ultimately learn something.
Don't get scared of your work. Do it confidently.
Meet strangers, it will build your confidence.
Build a habit of facing every problem.
Improve your mental skills and concentration on work.
Reduce stress.
Play brainstorming games.
Be more self-reliant.
Increase your reading skills.
Improve speaking skills.
Learn writing skills.
Use different productivity tools/apps.
Use daily, weekly or monthly planners.
Start writing a diary.
Take firm decisions.
Bring discipline in your daily life.
Identify triggers that make you impatient and overcome them.
Become more active in discharging your duties.
Change your lifestyle.
Stop being late at all places.
Identify your bad habits and drop them one-by-one.
Adopt a new good habit each month.
Don't waste time on social media.
Keep an eye on your dress.
Become more stylish and trendy with the latest fashions.
Plan your vacations.
Plant more flowers in your garden or become a plant owner.
Try helping others.
Celebrate and enjoy little things in your life.
Learn something new every day.
Learn how to defend yourself.
Keep focus on achieving goals.
Compare your performance with that of the previous year
Declutter your workplace.
Get your documents in order.
Make your home fragrant with the natural fragrance of flowers.
Spend your leisure time on some hobby.
Explore new hobbies.
Start writing a book.
Turn your hobby into a career.
Adopt a cute pet.
Make book-reading your habit.
Set the reading goal. For example, one book in a month.
Increase income resources.
Build your personal brand that will reflect your knowledge and experience.
Stay away from debt.
Become a volunteer to give charity
Be a good neighbor.
Save money for the future.
Learn about personal finance.
Buy only those things that you need.
Use eco-friendly products.
Learn a new language.
Start a side hustle.
Keep track of your expenditures.
Pay more cash – credit less.
Make new friends.
Doubt less – believe more.
Spend time with friends and family.
Spend some time in nature.
Become more romantic.
Learn how to live a happy life.
Bring more peace in life.
Dream big.
Always be optimistic.
Spice up the mundane.
Laugh more often.
Read about Ikigai and try to implement it in your life.
Limit the number of resolutions to an amount that you can easily achieve.
Give a little more than you promise.
Read also: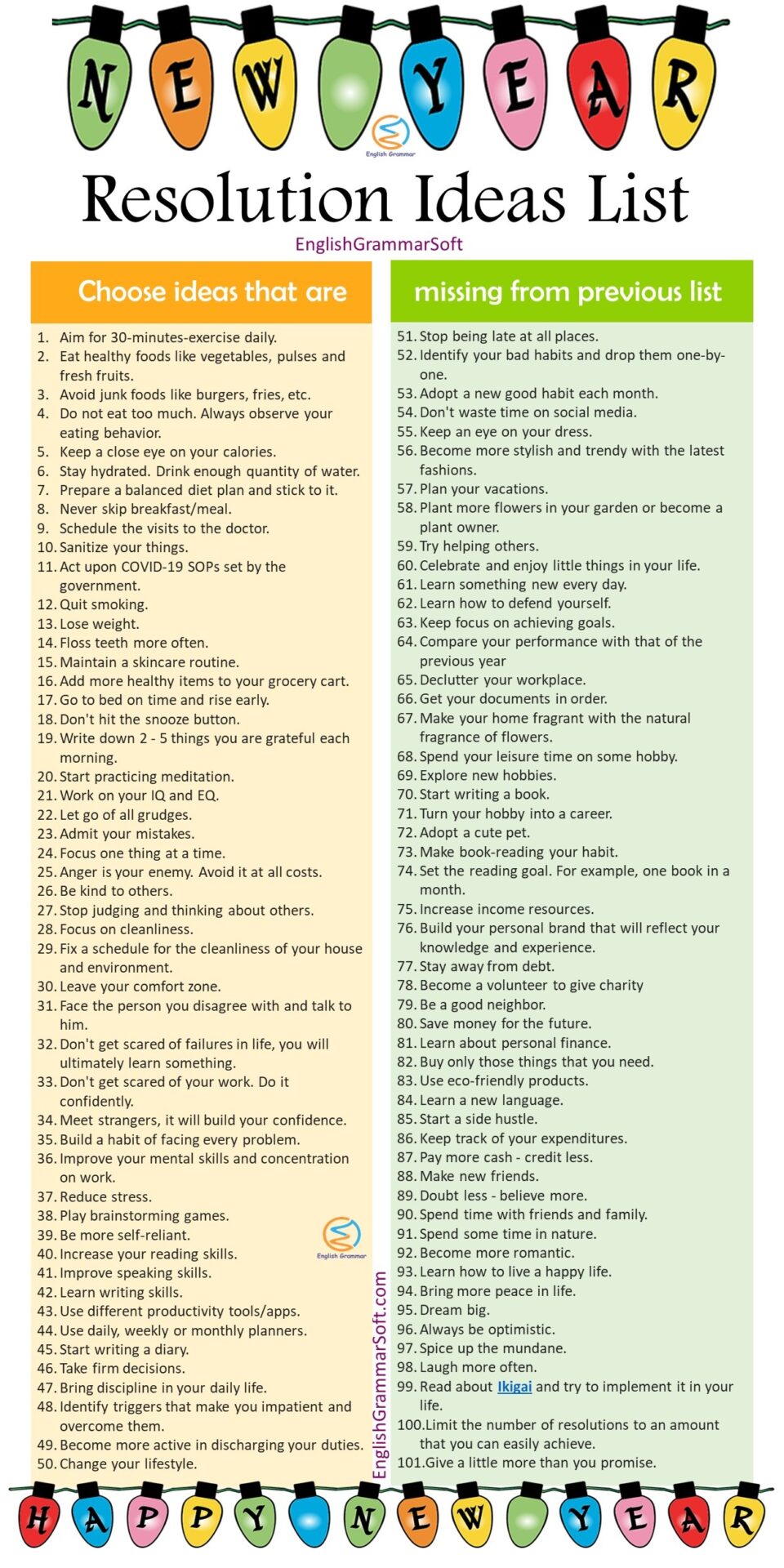 Do you have more ideas in your mind. Tell us in the comment section!