Business English Writing (A Beginner's Guide)
Business English writing is a type of professional communication that uses specific language conventions to convey ideas within a business context. This type of writing typically includes memos, reports, proposals, and emails.
In order to be effective, it is important to understand the various nuances of Business English writing.
1 – Business Writing as Communication
Writing is one of the most common forms of communication. There is no special writing scheme. But there is no doubt that this is what complex is capable of. For an effective writing nearly all the writers do similar things like these:
They produce ideas
They plan, prepare and develop their writing
They revise, edit and proofread
2 – Writing Steps
Writing involves certain steps e.g.
2.1 – Prewriting
Prewriting is the process of planning your writing. This includes coming up with an idea, determining your purpose, and outlining your arguments.
2.2 – Organizing ideas
One of the most important steps in writing is organizing your ideas. This means taking all of the information you have and arranging it in a way that makes sense. Once your ideas are organized, you can begin drafting your paper. This is where you actually put the information down on paper.
2.3 – Drafting
Drafting is the next step of the writing process. During this step, writers create a rough draft of their work. This draft may be full of errors and lack organization, but it allows writers to get their ideas down on paper.
2.4 – Revising
Revision is the process of evaluating and editing a piece of writing for clarity, accuracy, and effectiveness. The goal of revision is to produce the best possible work. In order to revise effectively, you should:
Read your work critically
Identify problems with clarity, accuracy, and effectiveness
2.5 – Editing
Editing and proofreading are important steps to take once your draft is complete. Editing involves checking for grammar mistakes and ensuring that your sentences make sense.
2.6 – Proof reading
Proofreading is a critical step in the writing process that helps you ensure the quality of your work. It involves reading your document for errors in grammar, punctuation, spelling, and style.
Proofreading is often best done after you have completed a draft of your document. This allows you to see it from a fresh perspective.
3 – Why we write in business?
The goal of business writing is to get your message across in a clear, succinct and effective way. The following are always at the top of the list when it comes to business writing:
To inform or record;
To cascade information;
To achieve a standard;
To write reports;
To promote services;
To write specifications;
To engage interest;
To support customers;
4 – Limitation of Business English Writing
Although Business English writing is a powerful tool for communication, it has certain limitations. We avoid these while writing.
Cliches
Euphemism
Expletives
Redundancy
4.1 – Cliches
An expression or an idea that is used too often and has lost post of its meaning. In other words phrases that have become overused are cliches.
In Business English writing we must use plain language, and avoid cliches.
Here are some of many expressions:
Avoid Cliches
Use plain language
Wish to
We wish to say that we have considered the proposal.
Omit this word e.g.
We have considered the proposal.
We would like to recommend Mr. Jon.
We recommend Mr. Jon.
I have received your letter and thank you for same.
Thank you for your letter.
4.2 – Euphemism
Euphemism is an indirect term. It also too offensive.
In general, try to state your ideas and messages without using words that might hurt or offend your audience.
| Instead of this | Use this |
| --- | --- |
| Used cars | Resale cars merchandise |
| Peon | Attendant |
| Died | Passed away |
4.3 – Expletives
An expletive is a meaningless word. Avoid these type of words in your business language
| Original | Revised |
| --- | --- |
| There are several reasons why Michael left the company. | Michael left the company for several reasons. |
4.4 – Redundancy
Redundancy, in the context of writing, is the use of more words than are necessary to express an idea. This can be done for a number of reasons, such as to make sure the point is clear, to add emphasis, or to ensure that the reader has all the information they need.
Difference between redundancy and repetition is given below:
Redundancy serves no purpose and is an error.
Repetition serves a purpose and is not an error. In a sentences, a certain word needs to be used again.
5 – Business Writing Requirements:
In the workplace, you certainly need to know how to access right information and process this when you write. You need to be
Correct

Use the correct level of language and writing.
Clear

Use plain English in business writing.

Use clear level of language

Considered
Complete

Provide all necessary information.
6 – Tips for Grammar and Punctuation
Grammar and punctuation are tool to help you understand next and communicate clearly. A good command of these can give a clear meaning to writing.
Following are the errors that need to be focused:
6.1 – Grammar
Subject verb agreement
Correct verb form
Verb tense shift
The definite and indefinite article
Proper use of pronouns
Transitional words and phrases
6.2 – Punctuation
Correct use of commas: (,) (" ") (' ')
Question mark: (?)
Exclamation mark: (!)
Apostrophe: (')
Hyphen or dash:  ( – )
Slash: (/)
Brackets: ([ ])
At sign: (@)
Colon: (:)
Semicolon: (;)
6.3 – Words
Spellings
Wrong Words
Missing Words
Capitalization
7 – Organizational Plans
There are many types of organizational plans that a business can use to articulate its strategies and objectives.
There are two organizational plans:
7.1 – Direct Approach
The direct approach is used when recipient is known, the recipient's reactions and questions are routine, or there is good news.
DIRECT APPROACH
Address (From)
(Date) Dec 19, 2021.
(Name) Mr. Jon
(Post) Finance Manager
(Company) __ABC
(Address) Glasgow
(To) Dear Mr. _________
Clearly state the main idea (opening)
Include the necessary explanation (body)
Close courteously (closing)
Sincerely,
(Name) ________
(Post) Credit Officer
7.2 – Indirect Approach
It is used when we do not know the recipient, the recipient's reaction and question are not in routine, or there is bad news.
8 – Everyday Business English Writing
How to write a date?
It is important to know that there are many ways of writing date in English.
UK English           DD/MM/YY         1st March 2021 (01/03/2021)
US English            MM/DD/YY         March 1st, 2021 (03/01/2021)
Japan English      YY/MM/DD         2021, March 1st (2021/03/01)
Where D = date, M = month, Y = year
Days of the week, their abbreviations
Monday, Mon;
Tuesday, Tue;
Wednesday, Wed;
Thursday, Thurs;
Friday, Fri;
Saturday, Sat;
Sunday, Sun
Months and their abbreviation
January, Jan;
February, Feb;
March, Mar;
April, Apr;
May, (never abbreviated)
June, (never abbreviated)
July, (never abbreviated)
August, Aug;
September, Sep;
October, Oct;
November, Nov;
December, Dec;
How to write a time:
Time is a topic that is must understand how to write correctly in English. There are many versions that are correct:
The office starts at 9 am.
The office starts at 09:00.
The office starts at 9 o'clock.
The office starts at nine in the morning.
9 – Types of Business English Writing
Letter Writing
Email Writing
Proposal Writing
Writing job application along with CV/Resume.
9.1 – Letter Writing
A letter is a written message for a person. It is a mean to exchange information in written form. Letter is the most formal method of communication in a business relationship.
Types of letter:
Formal letter
Informal letter
Official letter
Business letter
Enquiry letter
Order letter
How to write a business letter?
When you need to write a business letter, it's important to follow the correct format. This can ensure that your message is communicated clearly and effectively. Keep these points in mind while crafting your own masterpiece!
Think and plan before writing.
The language used in business letter must be clear.
Use simple words and plain language.
A letter is written must be concise and to the point.
Write accurate words.
Avoid unnecessary details but don't miss important points.
The language used in a business letter must be courteous.
Writing should be neat and easy to understand.
Proper order of ideas.
Letter should be attractive and good looking in presentation.
Opening and ending should be good.
Grammatically accurate.
9.2 – Email Writing
Email writing is a skill that everyone needs in today's business world. Whether you're communicating with customers, clients, or colleagues, being able to write clear and concise emails is essential. In many workplaces, email has replaced face-to-face and written correspondence as the primary method of communication between employees.
Parts of an e-mail
Recipient's address
Date and time
Subject line
Body line
Attachments (if necessary)
Signatures
An email address is comprised of three parts i.e. user name, symbol & domain name.
How to write an e-mail?
There are a few things you should keep in mind to make sure your e-mail is clear and concise.
Use professional and accurate e-mail address.
Use plain language
Start with greetings
Message should be clear and focused.
Avoid unnecessary explanation
Know your email subject line.
Write emails appropriately.
Write emails with right tone.
Identify yourself clearly.
Language should be courteous.
Attach documents of necessary.
Remove all errors (check spellings)
Decide on the best way to sign off the email.
9.3 – Proposals
The proposal is a detailed suggestion submitted for approval to a person or an organization. Proposals play important role in business development and relationships.
Some common types include technical proposals, business proposal, sales proposals, research proposals, external/internal proposals, solicited and unsolicited proposals.
How to write a proposal?
Whether it's for work, school, or other purposes, proposals can be daunting. Here are some tips to get you started:
Define the purpose of your proposal. What are you trying to achieve?
Do your research. Knowing your audience is essential when writing a proposal. Who will be reading it? What do they need to know?
Keep it focused and concise. Be clear and direct in your writing, and try not to include irrelevant information.
Edit and proofread carefully before submission. Make sure your proposal is error.
Provide example.
Present yourself credibly.
9.4 – Report Writing in Business English
A report is a document that presents information in an organized manner. It may inform, analyze, or recommend a course of action. Reports are typically used to communicate with superiors, colleagues, or clients.
How to write a report?
Report writing is a critical skill for professionals in any field. Whether you are submitting a report to your boss or to a client, the ability to write effectively and clearly is essential. There are some steps to follow when writing a business report.
Define the purpose
Analyze the purpose
Make an outline
Evaluate your information
Review your outline
Describe what issues are involved
Proof review and sign off
Components of a report
There are broad sections
Frond matter

Title page
Cover letter
Table of contents
Executive summary

The Body

Involves introduction
Central section
Final section

End matter

The end matter includes glossary
Appendix
Bibliography
Index
9.5 – Writing Job Application with Resume/CV
In today's competitive job market, your resume and job application are the key factors whether you get an interview or not. These should be well-written and highlight your skills and experience. We will briefly describe both these skills.
How to write a job application?
When you are applying for a job, it is important to make sure that your application is well-written and error-free. Parts of a job application are:
Introduction; details
Body; discuss relevant
Closing; thanks the reader
Points to consider:
Use plain language
Take direct start
Provide relevant material
Close with important details
How to write a Resume/CV?
CV is a written document of academic career, work and experiences. It's important to take the time and make sure that your resume is well written and showcases your skills and experiences in the best way possible.
Some common types of resume are:
Chronological resume
Combination resume
Functional resume
Targeted resume
How to write resume?
Writing a resume varies from person to person depending upon experience, technical skills, non-technical skills and qualification. You can include these points in your resume.
Personal Details

Name
Address
Phone Number
Email ID
Date of Birth
Marital status
ID Card number

Objectives
Basic education
Professional education
Work experience
Certificate / diplomas
Activities
Hobbies
Language known
References
10 – Proofreading
Proofreading is the last step of English Writing. During proofreading, we check sentences, grammar, punctuation and verb tenses. We also check spellings and errors. Caring bout words, capitalization, the margins, font size, line spacing and specially title are also part of this step.
How can I improve my business English writing?
Business writing is different from other types of writing. It has a specific purpose, tone, and audience. There are many ways you can improve your business English writing skills.
Read more
Write more
Practice using the active voice
Use shorter sentences and paragraphs
Use fewer adjectives and adverbs
Avoid clichés, jargon and buzzwords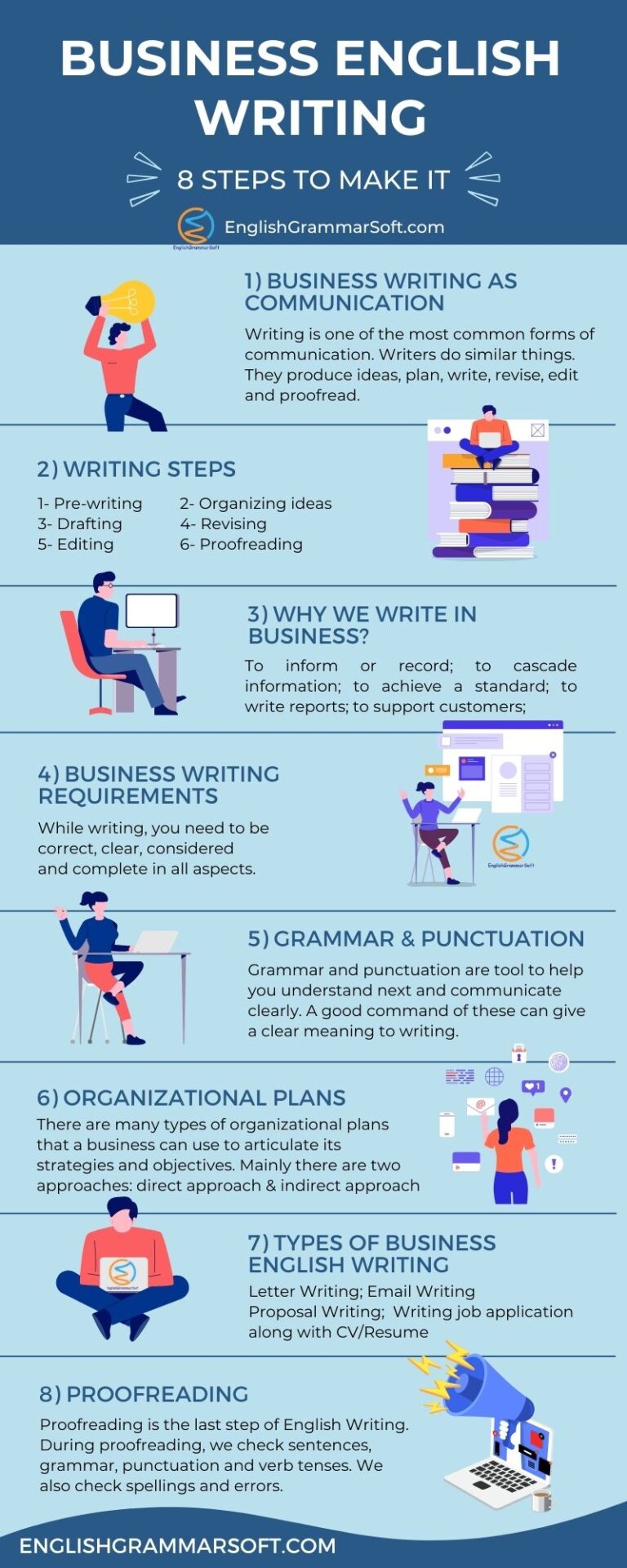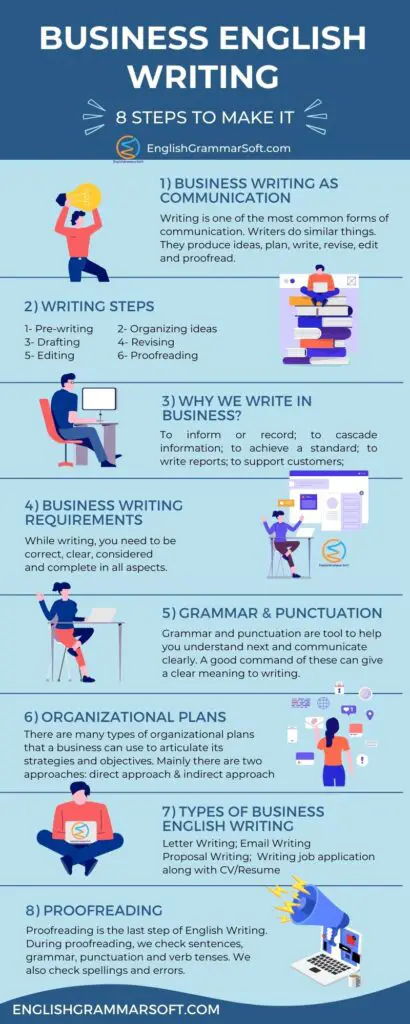 Further Reading