Past Continuous Tense Worksheet with Answers
Past Continuous Tense Worksheet with Answers
What __________ when I opened the door? (you, do)
I bought a new bike. My old bike __________ me a lot of trouble. (give)
Tom __________ the poem by heart. (learn)
Jonathon __________ with his health. (struggle) Now he is fit.
They __________ when I entered the house. (leave)
Jim __________ when his friend came. (study)
It __________ when I came out of the room. (rain)
I __________ a credit card because I had cash. (not use)
__________ when the doorbell rang? (you, sleep)
They _________ to the station at 9 pm yesterday. (go)
Answers
What were you doing when I opened the door?
My old bike was giving me a lot of trouble.
Tom was learning the poem by heart.
Jonathon was struggling with his health.
They were leaving when I entered the house.
Jim was studying when his friend came.
It was raining when I came out of the room.
I was not using a credit card because I had cash.
Were you sleeping when the doorbell rang?
They were going to the station at 9 pm yesterday.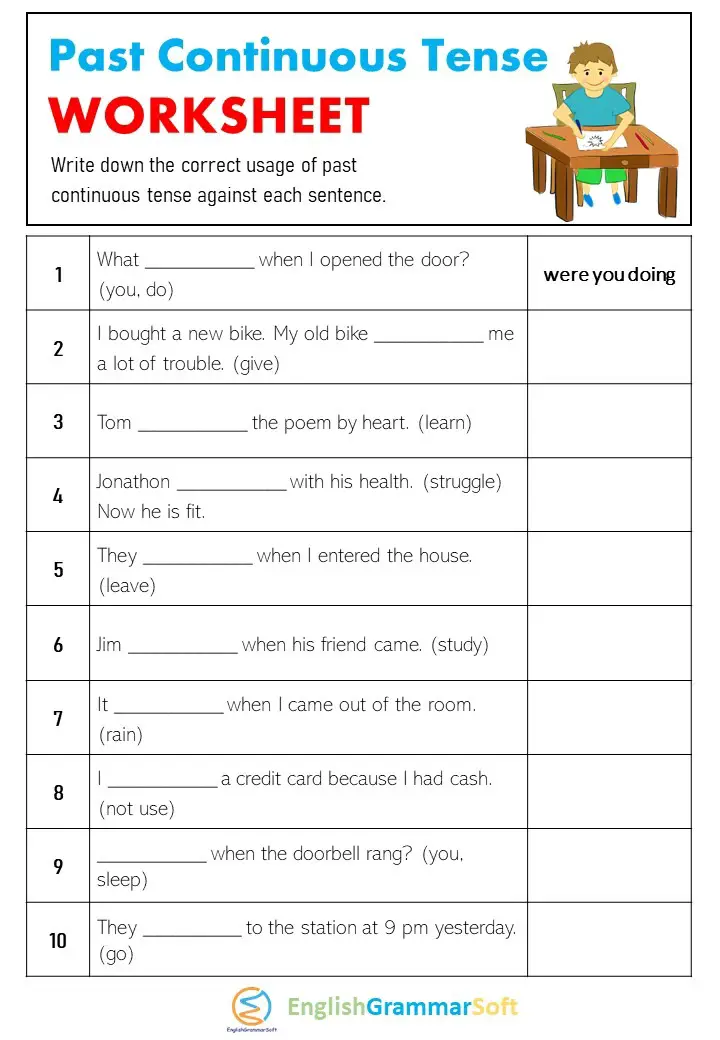 | | | |
| --- | --- | --- |
| AFFIRMATIVE SENTENCES | NEGATIVE SENTENCES | INTERROGATIVE SENTENCES |
| She was learning Spanish when I met her. | She was not learning Spanish when I met her. | Was she learning Spanish when I met her? |
| Tina was cooking meal when the children arrived | Tina was not cooking meal when the children arrived | Was Tina cooking meal when the children arrived? |
| Tom was driving when the car's tire burst. | Tom was not driving when the car's tire burst. | Was Tom driving when the car's tire burst? |
| Mr. Jonathon was walking down the street when I saw him. | Mr. Jonathon was not walking down the street when I saw him. | Was Mr. Jonathon walking down the street when I saw him? |
| He was doing yoga in the park. | He was not doing yoga in the park. | Was he doing yoga in the park? |
| I was enjoying the weather at hill station last Sunday. | I was not enjoying the weather at hill station last Sunday. | Was I enjoying the weather at hill station last Sunday? |
| They were working on the project when I joined them. | They were not working on the project when I joined them. | Were they working on the project when I joined them? |
| You were planting flowers in your garden when I met you. | You were not planting flowers in your garden when I met you. | Were you planting flowers in your garden when I met you? |
| I was planning my weekly schedule. | I was not planning my weekly schedule. | Was I planning my weekly schedule? |
| He was going to the market an hour ago. | He was not going to the market an hour ago. | Was he going to the market an hour ago? |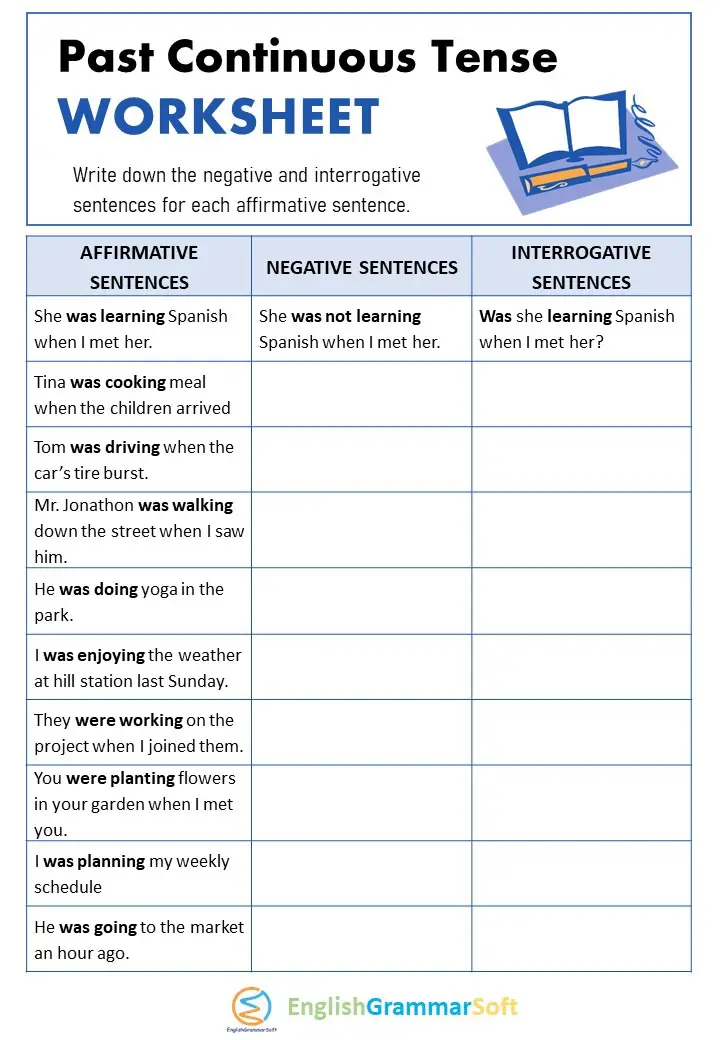 Download Past Continuous Tense Worksheet with Answers pdf
Further Reading