Sentences with While (119 Examples)
We can use "while" to talk about time and to talk about a repeated action. While is a conjunction that means at the same time as or during. You'll see here example sentences with while.
Sentences with While
While the children were playing outside, a fire broke out.
While you're waiting for the bus, you can watch people.
While some students can write well, others need more practice.
I'm going to study while you're gone.
While we were talking, someone came into the room and started talking loudly on their cell phone.
While it may be inconvenient at times, it's still important to maintain relationships with others to succeed in life.
While driving down the street, he saw an accident and had to stop his car immediately.
While studying, my phone rang, and I answered it without looking at who was calling me.
While the book was good, it wasn't as good as I had hoped.
While away, your dog got into the trash can and ate all of your garbage.
While he was working on his computer, he heard a knock at the door and went to answer it.
While walking down the street, a man came up behind her and grabbed her purse from her shoulder.
While talking to my friend on the phone, my cat started meowing at me for food, so I put him off for a moment.
While the weather is nice, I will go to the beach.
I have been working on this project while you were away.
While he was taking a shower, I cleaned up the kitchen.
While she was sick, she didn't go to work for a month.
While we are waiting for our food to arrive, do you mind if I tell you a story?
While talking on the phone, he suddenly hung up without saying goodbye! What an asshole!
While watching TV in my room, someone knocked at my door.
While I was waiting for my hair to dry, I decided to write a letter.
While he was eating dinner, he heard a knock at the door.
Since we had already eaten dinner and there was no food in the house, we went out for ice cream while we were waiting for the pizza delivery man.
While you were sleeping, I made breakfast.
While eating my lunch, my phone rang, and my friend wanted to meet up for coffee after work today.
While you were at work, I cleaned up the house and did your laundry because I knew you'd be tired when you came home.
While running errands, he went into her room and snooped around her closet, looking for anything he could use against her if they broke up.
While walking through Central Park last weekend, we spotted a bird that looked like a peacock but had blue feathers instead of green ones; it was strange indeed.
While we were eating dinner at home last night, our phone rang, and it was our friend who wanted us to come over tonight so we could talk about his business ideas.
While he was away, his wife had a baby boy.
While we were discussing the matter, the doorbell rang.
While eating lunch, my brother came in and sat beside me.
While you were out of town on vacation, your sister took over as president of your company.
While sleeping, his dog jumped on him and woke him up because he wanted to go outside and play with him in the backyard.
While she was sleeping in her bedroom after having a long day at work, her husband snuck into their bedroom with flowers and chocolates.
While the rich get richer, the poor get poorer.
While we were waiting for our order to be ready, we made small talk with our waiter.
While waiting for your computer to boot up, you can check your email or surf the web.
While she was talking on the phone, her daughter was texting someone.
While we were driving through town, I noticed that a lot of stores were closed for good.
While waiting for your food at a restaurant, do you ever look around and wonder what other people are having?
While walking around town this summer, try to notice all the people there!
While writing this article, my dog kept me company by sleeping on my lap.
While it was raining, I decided to go for a walk in the park.
While studying at university, I could not find time to do any extra-curricular activities.
While driving on the highway, you should always be careful of other drivers who may be driving faster than you.
While I was asleep, the rain stopped.
While the book was on the table, John moved it to the shelf.
While waiting for his mother, his son ran into the room and hugged him tightly.
While reading this article, my brother came in and asked me to go out with him and his friends tonight.
While waiting for your food to arrive at the table, you can look at the menu or read a newspaper or magazine that might be available at your table.
While driving home from work last night, we saw a deer standing right next to our car on the freeway!
While the book was excellent, it didn't make us want to read more.
While he was away on business, I had to take care of the kids alone.
While waiting for my test results, I started worrying about the worst-case scenario.
There is a lot of traffic while driving downtown Chicago; it's hard to get anywhere fast.
While you were sleeping, I was working.
I was reading the newspaper while he was watching TV.
She's coming home from work while I'm going out for dinner.
While I was watching TV, my friend called me.
While she was making tea, her husband went to the market.
While bathing in the river, a crocodile attacked him and ate him.
While we were spending our vacation at Kanyakumari beach, we met our old classmates.
While talking to my friend on the phone, my father entered the room and asked me what had happened.
While the situation is under control, we can't afford to relax.
While it is not necessary to be brilliant at everything, it is important to be able to recognize brilliance in others.
While I was out of town, my cousin took care of my dog.
While he was away on business, I moved into his house and made myself at home.
While I admire his courage, I also fear he is reckless and impulsive.
While this may seem like a small matter, it has bigger implications for our future as a company.
While I'm sure you have many questions about this situation, let me assure you that we'll explain everything soon enough.
While the house was burning down around them, they continued arguing over who was responsible for starting the fire in the first place.
I will buy a car while I am in college.
While it is raining, we will not go to the beach.
While eating dinner, they talked about their day at school.
While in college, I will study hard and get good grades to get a good job when I graduate.
While doing your homework tonight, please turn off the TV and go to bed early so that you won't be tired tomorrow morning when you have to wake up early for school.
While visiting us in California, we want you to have fun and enjoy yourself as much as possible.
While she was on vacation with her family in Florida last summer, they went swimming every day at the beach near their hotel room.
While the police were arresting the suspect, he resisted arrest.
While I was getting ready for work, I heard my phone ring.
While you are away, your children will be well cared for by their grandparents.
While he was away on business, his wife was lonely and bored at home with nothing to do but clean the house and take care of the children.
While in New York, I went to the top of the Empire State Building.
While you were gone, we did some spring cleaning and organized your closet.
While we're on this subject: do you want to go out for dinner tonight, or should we order?
While I'm at it, let me ask you another question: can I borrow your car for a few days next week? I'll bring it back as soon as I've finished with it.
While many people are uneducated about the topic, it is not true that all women want to be mothers.
While most people do not like to admit it, we all have flaws and cannot be perfect.
While some believe that money can buy happiness, others believe it is more important to develop good relationships with other people.
While there are many reasons for this change in attitude, the main reason is that more people are becoming concerned about their health and exercise regularly as a result of advertising campaigns encouraging them to do so.
While the other girls were happy to spend their time shopping and gossiping, I preferred to spend my time reading and studying.
While some people are gifted with great physical beauty, others must work hard to achieve it through exercise and dieting.
While business owner needs to be aware of the latest trends in marketing, they also need to consider whether they can afford such innovations or not.
While many websites will help you learn how to play the guitar, there are still some things you need to know before learning how to play it yourself.
While my mother was cooking dinner, I was watching TV.
While he was studying in the library, she was exercising at home.
While it was snowing outside, I stayed home and read a book.
While they were talking on the phone, I took a walk by myself.
While waiting in line at the grocery store, my husband went to get us some snacks.
While camping in the mountains, it started raining and snowing, so we had to go home early without even having time to build our fire or roast marshmallows.
While sleeping last night, I cleaned up your room and made your bed because you had left it messy again.
While driving down the street on his bike, he suddenly fell off and hurt badly, so he had to go to the hospital immediately.
While he was away, his wife gave birth to twins.
While in the hospital, her husband took care of their baby son.
While at school, their mother baked cookies for their afternoon snack.
Although he had never driven a car before, he tried to learn how to drive while his father was asleep in the front seat next to him.
As I was walking home from school yesterday, I saw a big dog sleeping on someone's lawn while its owner was watering plants in their garden.
My dad jogs every morning at 6 AM while listening to music on his iPod shuffle.
While the storm raged outside, we sat in front of a warm fire.
I'm going to learn while I'm away from home.
While I was gone, my brother cleaned the house and washed all the dishes.
While the children slept, their parents went out on a date.
There are many things to do while you're in towns, such as visiting museums and concerts.
While I was in the store, I saw a beautiful dress.
I don't know what to do while waiting for the bus.
It is scorching outside while I am writing this letter.
While you were sleeping last night, there was a terrible storm outside our house.
While reading a book, my brother entered my room and started playing with my toys.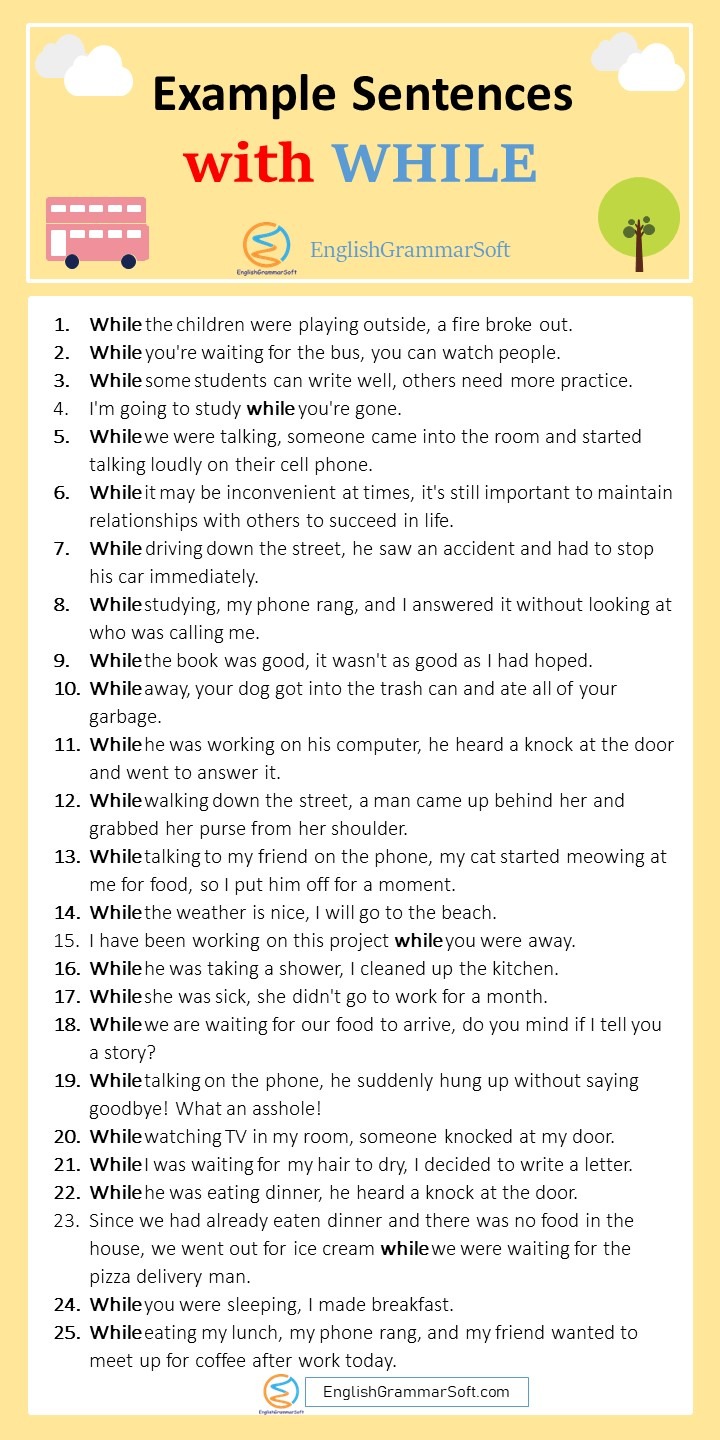 More to read