Singular and Plural Nouns (15 Rules, 50 Examples & Worksheet)
What is singular noun?
The singular nouns are words that only refer to one person or thing. They can be used as a subject, direct object, indirect object, predicate nominative, or appositive.
For example: "I went to the store." This sentence is about the speaker and their experience at the store. It's also possible for a singular noun to be an appositive such as in this sentence: "Tina was wearing her best dress."
Here, Tina is being described by what she was wearing which is called an appositive.
What is plural noun?
Plural nouns are words that refer to more than one person, place or thing. They are often used in sentences where we want to talk about a group of people, animals, or things.
Let's take the sentence "I am teaching a class this semester." We can change it around and say "The students have been working hard all semester long." In the first sentence, "class" is singular and in the second sentence, "students" is plural. That means you need to use a proper noun (singular or plural) according to the situation.
It may not seem like much of a difference at first but it will make your writing sound awkward if you don't get it right! The best way is to learn the rules of plural nouns.
Plural Noun Rules
We'll break down the rules so you'll never get your plural nouns wrong again.
Rule-1
We add '-s' to the end of regular nouns to make them plurals. For examples,
| Singular | Plural |
| --- | --- |
| Chair | Chairs |
| Table | Tables |
| Pencil | Pencils |
| Book | Books |
| Cat | Cats |
Rule-2
In some cases, we add suffix "-es" to the nouns ending in "o". See examples below.
Examples
| Singular | Plural |
| --- | --- |
| Tomato | Tomatoes |
| Potato | Potatoes |
| Mosquito | Mosquitoes |
| Echo | Echoes |
| Zero | Zeroes |
Rule-3
In some Latin or Greek words (foreign words) ending in "-o", we add suffix '-s'. For example,
| Singular | Plural |
| --- | --- |
| Avocado | Avocados |
| Photo | Photos |
| Video | Videos |
| Studio | Studios |
| Radio | Radios |
Rule-4
When singular noun ends in '-us', we replace '-us' with '-i'. Examples are,
| Singular | Plural |
| --- | --- |
| Cactus | Cacti |
| Fungus | Fungi |
| Focus | Foci |
| Nucleus | Nuclei |
Rule-5
In singular noun ending on '-y' (when the letter before -y is vowel), we add '-s' to the end to make the noun plural, for example,
| Singular | Plural |
| --- | --- |
| Boy | Boys |
| Alloy | Alloys |
| Day | Days |
| Ray | Rays |
| Guy | Guys |
Rule-6
In singular noun ending on '-y' (when the letter before -y is consonant), we replace '-y' with '-ies' to make the noun plural, for example
| Singular | Plural |
| --- | --- |
| Lady | Ladies |
| City | Cities |
| Spy | Spies |
| Penny | Pennies |
| Army | Armies |
Rule-7
In some cases, the singular nouns ending in '-s' or '-z', the last letter is doubled plus we add '-es' to the end. See the examples,
| Singular | Plural |
| --- | --- |
| Gas | Gasses |
| Quiz | Quizzes |
| Fez | Fezzes |
Rule-8
In many cases, the singular noun ending in '-f' or '-fe', we replace the '-f' or '-fe' with '-ves'. For example,
| Singular | Plural |
| --- | --- |
| Thief | Thieves |
| Wife | Wives |
| Loaf | Loaves |
| Half | Halves |
| Knife | Knives |
There are some exceptions where the rule does not apply, Examples are roof -> roofs, belief -> beliefs, cliff -> cliffs
Rule-9
In case the noun ends in '-on', we replace '-on' with '-a' to make it plural, for example
| Singular | Plural |
| --- | --- |
| Criterion | Criteria |
| Phenomenon | Phenomena |
Rule-10
In case the singular noun is ending in '-is', to make the noun plural, '-is' is replaced with '-es'. For examples
| Singular | Plural |
| --- | --- |
| Oasis | Oases |
| Thesis | Theses |
| Basis | Bases |
| Crisis | Crises |
| Diagnosis | Diagnoses |
Rule-11
If the nouns ends in '-um', last letters '-um' are replaced with '-a' in plural form. Examples are
| Singular | Plural |
| --- | --- |
| Datum | Data |
| Agendum | Agenda |
| Medium | Media |
| Bacterium | Bacteria |
| Memorandum | Memoranda |
Rule-12
In some case, the singular noun is ending in '-ex' or '-ix', the plural will end in '-ices' Examples are given below:
| Singular | Plural |
| --- | --- |
| Matrix | Matrices |
| Index | Indices |
| Vertex | Vertices |
| Codex | Codices |
Rule-13
There are several singular nouns which do not follow any of the above rules while making them plural
| Singular | Plural |
| --- | --- |
| Foot | Feet |
| Child | Children |
| Mouse | Mice |
| Louse | Lice |
| Man | Men |
| Woman | Women |
| Goose | Geese |
| People | Person |
| Alumnus | Alumni |
| Genus | Genera |
Rule-14
Many nouns have the same singular and plural form. Fro example, plural nouns for sheep is 'sheep'. See some more examples.
| Singular | Plural |
| --- | --- |
| Fish | Fish |
| Tuna | Tuna |
| Salmon | Salmon |
| Deer | Deer |
| Gross | Gross |
| Ice | Ice |
| Species | Species |
Rule-15
Some nouns do not have plural forms. Examples are
Love
Hatred
Lust
Happiness
Kindness
Types of Plurals
A lot of people don't know about the types of plural nouns, but it's important to understand that there are three types of plurals:-
Regular Plurals
Irregular Plurals
Compound Words
The plural noun rule is one of those things that can trip you up when you're writing sentences
Regular Plurals
Regular plurals end in s or es. For example, bag -> bags, toy -> toys, pen -> pens etc.
Irregular Plurals
Irregular plurals have a different spelling for their endings than they do for singulars. For example ox -> oxen, goose -> geese etc.
Compound Plurals
Compound words are made up of two words put together to make one word. For example, "bookcase" is a compound word with two parts – book and case. To form the plural form of this word, we would simply add an 's' at the end (bookcases).
It's easy to remember these rules if you think about them like this – just add an 'es' for regular plurals and an 's' for irregular ones!
You can read here further: Regular and Irregular Nouns Rules with Examples
Singular Noun Example Sentences
Fungus is vicious for human health.
I need a knife to cut the apple.
There is only one chair in the hall.
Runabout is the most popular boat in the United States.
Tom has been driving the same car for the last ten years.
Do you think life is so easy?
I love to eat continental food.
Tina bought a new house in a colony near the forest.
My room is spacious and well furnished.
The chef baked a pie cake for the guests.
Do you have a camera to record the action?
The cat is sitting on the roof.
I avoid junk food because it is unhealthy.
They booked a table in the restaurant.
The baby is crying with hunger.
Do you still listen to radio programs?
The rug was so dirty that I had to vacuum it.
I can't believe you left your clothes on the floor!
You're going to have to clean up after yourself if you want dinner tonight.
In this game, players are given a singular noun and must use it in a sentence.
It's time to go home now, so I'll see you later!
The most common type of security system is a door alarm that will sound when someone opens your front door.
I'm going to a party this weekend.
Who is watching television?
Our school was founded by a man named John Smith who wanted to create a safe space for children and teenagers who were bullied at their old schools.
Plural Nouns Example Sentences
The plural noun example sentences are often used when you want to refer to a group of people or things.
Fungi are vicious for human health.
There are fifty chairs in the hall.
I avoid oily and high-calorie foods.
Pakistan is the largest exporters of footballs all over the world.
Jackson has a great collection of coins and stamps.
All the friends agreed to spend a day in the jungle camp.
There are many ways to whiten teeth naturally.
A fleet of boats was sailing in the river.
There are 195 countries in the world.
Men and women are born with 12 pairs of ribs.
She cut the pizza into equal halves.
How many subjects have you completed in this syllabus?
The costs of the new house are high.
It's important that you know what the words mean and when they can be used.
The pencils are sharpened.
The students have their assignments due tomorrow.
I think both the computers need to be fixed.
There is a lot of food for everyone to eat.
We've been waiting on you guys forever!
As a result of the recent increase in crime rates, many people are opting to buy home security systems.
These alarms can be easily installed on existing doors with just a few screws and some wiring.
You don't need any special tools or equipment – all you'll need is an electric drill and some patience.
There are three cats in the yard.
How many people work for your company?
A group of students is waiting at the bus stop 30 minutes before school starts.
Worksheet for Singular and Plural Nouns
Following is a worksheet for singular and plural nouns. Answers are given at the end. Mention against each sentence whether highlighted/bold word is a singular or plural noun.
This is my favorite pizza topping because they give me one every time I order one. (singular/plural)
The sun is shining. (singular/plural)
My mom's favorite color is red. (singular/plural)
A house has four walls, a roof, and a door. (singular/plural)
Cars are typically rectangular in shape with sharp corners and flat surfaces. (singular/plural)
A dog has fur on its back legs to keep it warm during winter months. (singular/plural)
The cat is under the table. (singular/plural)
My phone is on my desk. (singular/plural)
The apple fell from the tree and landed in a pile of leaves. (singular/plural)
I need to go back to my house because I left my wallet there. (singular/plural)
That's an interesting idea, but it won't work for me. (singular/plural)
I have two hands and five fingers. (singular/plural)
You should come over to my place sometime, we'll have fun together. (singular/plural)
The books are on the desk. (singular/plural)
Three dogs were playing outside. (singular/plural)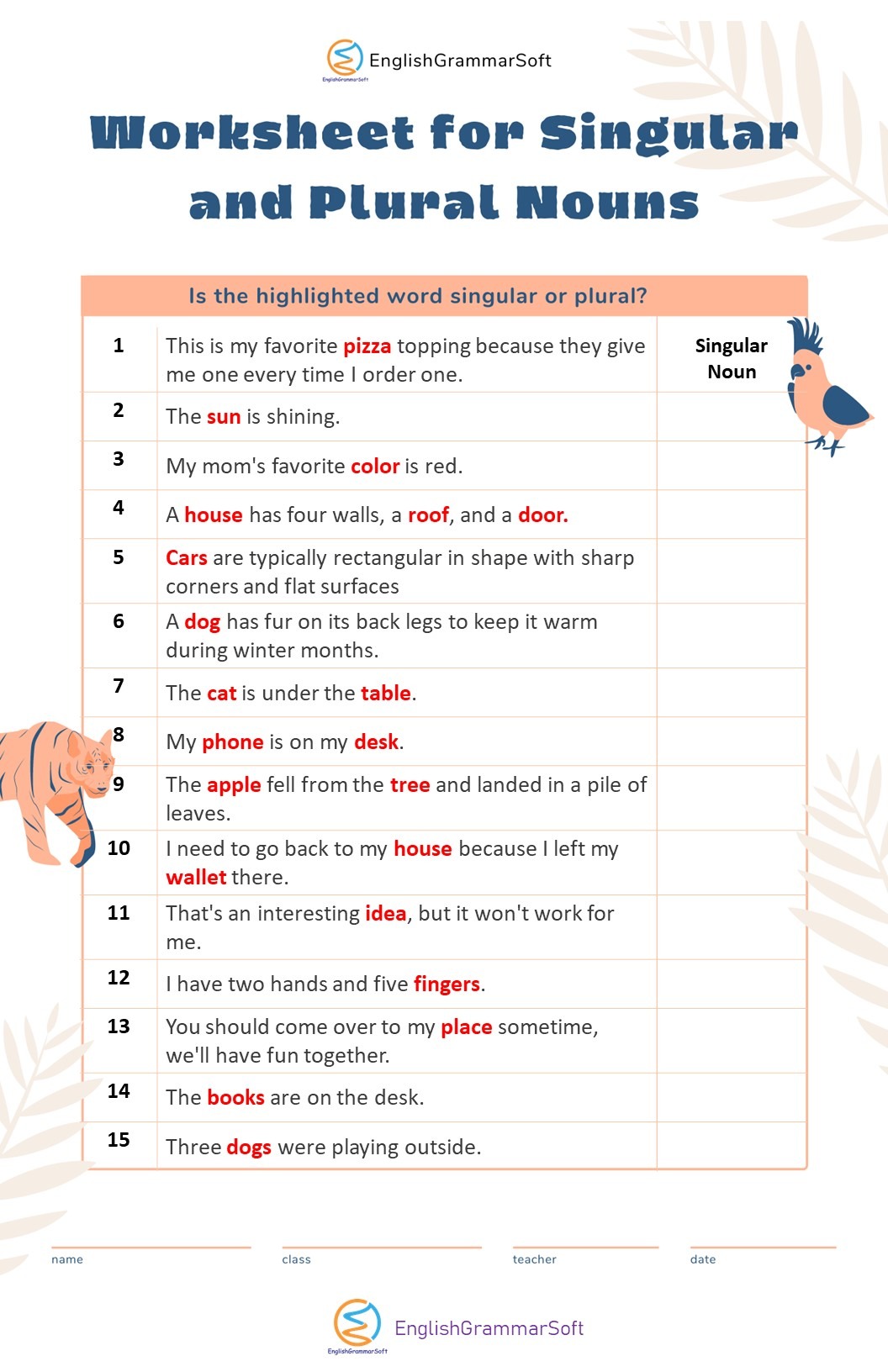 Answers
Singular Noun
Singular Noun
Singular Noun
Singular Noun
Plural Noun
Singular Noun
Singular Noun
Singular Noun
Singular Noun
Singular Noun
Singular Noun
Plural Noun
Singular Noun
Plural Noun
Plural Noun
Read also