Essay on 8 Business Functions: What They Do And How They Work
Essay on 8 Business Function
A business, in the simplest sense, is a group of people who work together to sell goods or services. The most basic function of a business is sales and marketing. Sales are an important part of any business because they generate money for the company while marketing helps create awareness about your product or service.
A business may perform numerous functions. We have limited out discussion to the extent of 8 important business functions.
#1 – Sales
To succeed in sales, the first thing that you need to understand is the difference between a customer and a prospect. Your prospects are the people who are interested in the product or service you offer. You need to create a lead list for your product or service and this will be a list of the people who are willing to listen to your sales pitch and make a decision about whether or not they want to buy.
The difference between a lead and a prospect is that a lead is someone who has already made up their mind about the product or service you are selling. A prospect is someone who is actively considering buying your product. When your prospects see a business advertisement, they will go online to see more information about your product or service.
#2 – Marketing
Marketing can be defined as the public and business promotion of products or services. There are many things that go into marketing; there is a place for a mix of traditional marketing methods and new technology such as social media.
Traditional methods such as the use of print and television, radio, outdoor advertising, direct mail and public relations can be used to promote a product.
Modern methods of marketing include direct sales and web-based marketing. Online marketing involves marketing a product or service online or through social media such as Twitter, Facebook and Instagram. There are many companies who offer various social media marketing services. Many businesses buy online marketing software such as Marketo and Big Commerce.
#3 – Operations
A business is also a living thing, and in order to run effectively it needs proper care and maintenance. One of the essential tasks of a business manager is to get the business running smoothly and efficiently.
If the management is unable to keep the business going, it will end up facing bankruptcy. A business must always look out for a bigger and better place to stay. It is essential to have a clear strategy which will help guide the management in making the right decisions and taking right actions to achieve success. A clear strategy guides the company through different phases of growth. Vision of a business does not stand still. It must continuously look to increase its size and sales.
#4 – HR and Recruitment
HR and recruitment come next. It includes personnel, benefits, and corporate culture. The big goal in HR is to produce a great customer experience. Since the average employee can be the most profitable part of the company, you want to make sure that your employees are the happiest in their work.
As for benefits, they can include flexible hours, healthcare plans, and other perks. Corporate culture can include different methods of training, different work environments, and many other perks and amenities for your employees.
#5 – Finance and Accounting
Since the finances and accounting function is in control of setting and approving the company's cash flow, all the executives of the company must understand the basic concepts of it. The company must have a clear budget and know how to follow it. One area that can be important is managing cash flow.
The primary role of this function is to produce and keep records to prove that there is enough income for the company to keep running for the future. It is essential for any new company to have a business accountant who can help them get through the initial days of setting up.
#6 – Information Technology
IT plays a crucial role in running a business in the current scenario. The electronic trail of an organization is becoming the backbone of any company or individual. There is a growing trend of outsourcing IT work to external agencies because companies want to concentrate on their core competency.
The cost of IT solutions is a concern for many companies as well. The search for cost saving solutions of running an organization has forced many companies to leverage IT solutions to get the most out of their systems. With new technological advancements, the IT solutions can have a direct impact on company's profit as well.
#7 – Logistics and Warehousing
Logistics is also a vital part of every business. Logistics covers the distribution of products throughout the business. The delivery of products will depend on the location of your business and the services it provides.
The business can be large or small; the purpose of logistics is to help you deliver your products and services to the customers who are interested in your products or services. If you have a large business, you need to create the proper infrastructure to facilitate the distribution of products. This will require you to hire help from the experts in the field. If you own a small business that provides a basic level of services, then logistics and warehousing is also important.
#8 – Customer Service
In a typical consumer purchase, the customer interface is the salesperson and the process of purchase. There is a direct tie between the salesperson and the consumer.
The salesperson is going to drive sales, create awareness, and ultimately sell to the consumer. And to do that, they need to make the experience as painless as possible. To do that, the business needs to service the customer.
Customer Support is the service aspect of the business. Having a business that sells products or services will mean that the company needs to make its product or service available to the consumer. Many businesses focus on customers at the end of the chain, such as the product, service, or both. But the business needs to service its customers at every stage of the sales and marketing process.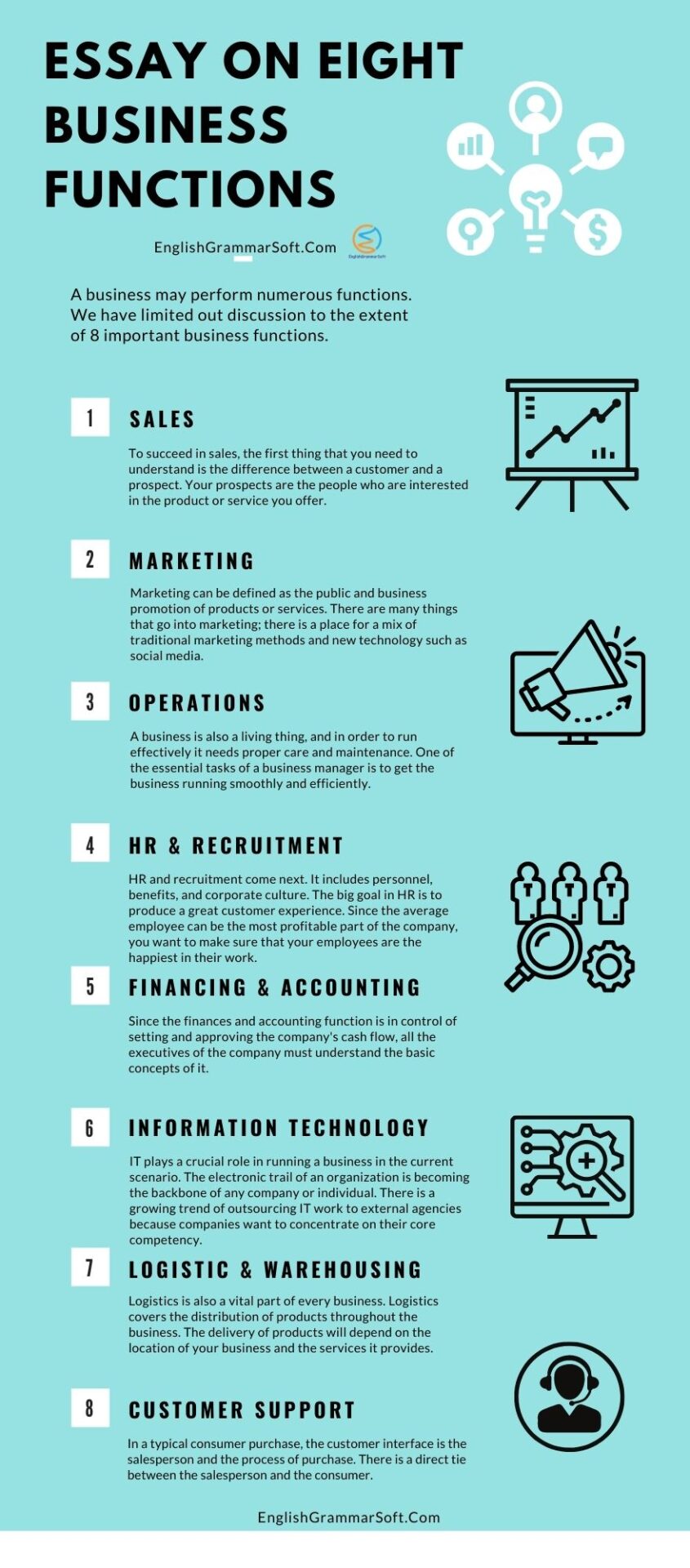 Further Reading