Essay about Community Service (Importance & Benefits)
Essay about Community Service
Community service is a great way to get involved in your local community. It helps you meet new people and learn new skills, while also giving back to those in need. You might think that the only people who do community service are volunteers or teachers, but anyone can do it! All you need is some time on your hands and a desire to help others. Volunteering can be fun (and even rewarding), so don't be afraid to give it a try!
What is community service?
Community service is a way for people to give back to their communities, and it involves any kind of volunteer work. Most organizations that provide community service opportunities will have an opportunity for you to find out more about what they do, or how you could help them. You can also contact your local government, school district, or nonprofit organization and ask if they need volunteers.
Once you know what type of volunteer opportunity interests you most—whether it's working with children at an after-school program or helping out seniors in your neighborhood—you can search online for more information on how to get involved by contacting the organization directly.
What does community service teach you
Community service teaches you to be a good person. It teaches you to be selfless, helpful, and giving. You learn that it is important to give back, not just take from the world around you. Community service will teach your empathy and tolerance as well as how to react towards other people who are different than yourself.
Importance of community service
Volunteering is a great way to give back and help make the world a better place. It's also good for your health, as studies have shown that people who volunteer have lower rates of depression than those who don't. Volunteering helps you learn new skills, meet new people and understand other cultures and backgrounds.
If you're concerned about giving up time that could be spent doing something else, consider how much of your free time is already taken up with social media or watching TV shows or movies at home instead of going out with friends. You might also consider how many hours each day are spent on things like scrolling through Instagram or Facebook—hours during which you may not be actively helping anyone but yourself. Volunteering gives you an opportunity to spend some time helping others while making new friends in the process!
Benefits of community service
Volunteering is a great way to meet people, learn new skills, and make a difference in the world.
Volunteering can help you develop your career. For example, if you are interested in social work or community organizing and want to get some experience before going to college or university, volunteering at an organization that does this kind of work would be an excellent way for you to learn more about it.
You might also benefit from volunteering by learning how another culture works. If you have friends who are members of different ethnic groups than yourself, volunteer with them so that you will get a better understanding of their backgrounds and cultures.
Getting involved in your local community
If you're a student, there's no better way to get involved in your local community than by becoming a member of the student council. It's an excellent way to build leadership skills and gain experience that will serve you well throughout your life, whether you decide to go into politics or not. Since it's a volunteer position, it's also one of the most flexible ways for students who want to get involved but don't have time for anything else (or even those who simply aren't sure what they want).
If you're a parent or guardian, there are plenty of ways for parents and guardians as well—from volunteering as sports coaches or teachers at schools and community centers; helping out with fundraising activities like bake sales; even participating on committees such as school PTAs/PTCs (Parent-Teacher Associations / Parent-Teacher Councils). Just getting involved in these kinds of events will help people see that they can make an impact on their community when they work together!
Conclusion
As you can see, there are many benefits to volunteering and giving back to your community. There is no better feeling than knowing that you are helping others in need or working towards making your local area a better place for everyone. We hope that this essay has inspired you to get out there and get started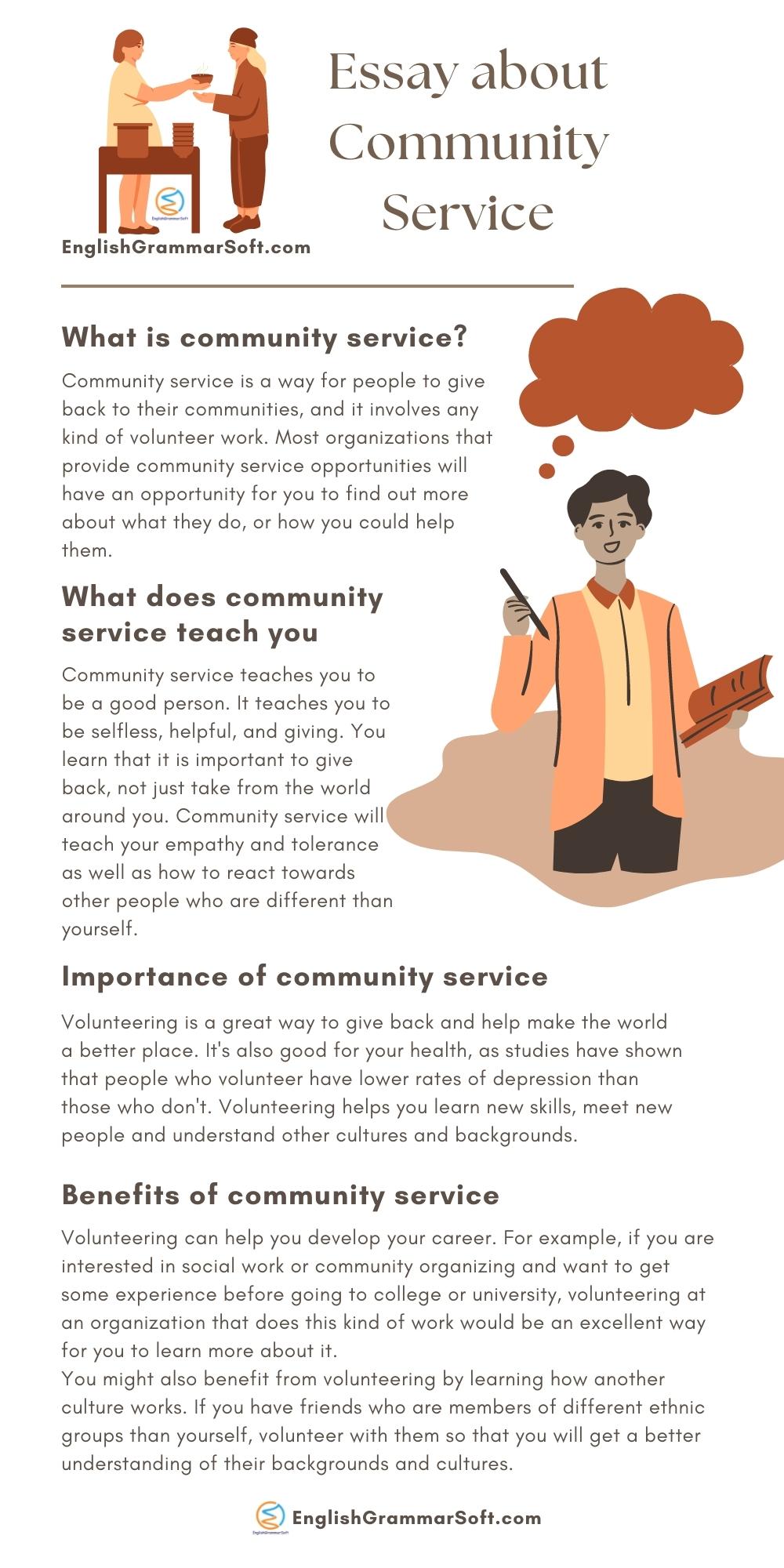 More on essays