Essay on Library & Its Importance
Libraries are a place where knowledge and literature is preserved and shared. They play an integral role in the cultural and social development of communities across the world.
Libraries also offer a variety of services to patrons, such as computer and internet access; space for meetings; spaces for children and teenagers; free public computers loaded with popular software programs such as word processing, spreadsheets, and presentations; audio-visuals like DVDs, CDs, magazines, newspapers, books, and audio books; wireless internet access; programs for children; programs for teens; programs for adults; information about government services and voter registration.
Essay on Library
Libraries around the world have a long history of being a place for people to read and learn. A library is a place where anyone can go to explore knowledge, no matter what their background or educational level.
A library is also an important place for local communities. Libraries are repositories of information on histories, cultures, and events that make up a particular geographic area.
These offer an opportunity for everyone to learn about their community in depth and from many perspectives. In today's fast-paced digital world libraries are struggling to stay relevant with an ever-changing public.
Yet they remain a vital resource in a time when we need them more than ever before.
1 – What is a Library?
Libraries exist to gather and store books, especially those that have historical value or can be used as reference materials. Libraries also have collections of DVDs, CDs, and audio-visuals; computer hardware and software; photocopying equipment; public and private library books; genealogical books, maps, etc.; and other kinds of printed materials.
Organizations within a community use libraries as places for people to find information or as meeting spaces for many groups that are part of a larger organization.
2 – What is the Value of a Library?
Each year, thousands of libraries across America give thousands of patrons a priceless gift. This is the Library Card.
It's a privilege that allows library users to check out books, magazines, journals, CDs, DVDs, and more. Your library card gives you access to a world of knowledge. And yet, many people never consider the value of this gift.
3 – Functions of library
The functions of libraries include providing access to the public for a wide range of educational, social and cultural needs, including providing a safe place for the study of literature, history and art.
Libraries provide free or low cost services, including public Internet access and sitting space. It offers free help with library and computer skills, and computer classes, and English language classes.
Libraries help those with learning disabilities with research assistance, book purchases, work with instructional materials and computer training.
They offer assistance with non-fiction reference. They offer access to English, American, Canadian and other foreign language books.
4 – How libraries are changing with technology
Libraries serve all types of readers (including online readers), researchers, and those interested in learning more about history, the arts, sciences, and other topics.
Librarians have used many forms of media to provide information to their patrons. In this era, most of the libraries are available online. Universities also provide the facility of digital libraries to their students. They also have many specialized databases that are useful for those who are looking for information on specific topics, such as encyclopedias and dictionaries.
5 – Who Uses Libraries?
Public libraries provide free educational and informational services to all patrons, no matter their race, age, sex, language, religion, economic status, etc.
Additionally, many community libraries offer cultural and social activities such as concerts, crafts, and story time for children. Libraries are crucial to the academic success of students.
The people from any field, teachers, professors, researchers also use libraries for learning and research purpose, as the case may be.
6 – Conclusion
Libraries are a great asset to any community. They offer resources for lifelong learning, access to information and ideas, and ways for people to connect with one another. But libraries do so much more than just provide books. These help people find every kind of information they need. They host local events and create welcoming spaces where neighbors can come together and share their thoughts and concerns.
The library is a place of knowledge and wisdom. It is a place where you can find any book you want for free, as long as it's within the library's collection. It is a place that will always be relevant to society, no matter what changes occur in the world. It is a place where people come together to share their thoughts and ideas with others. It is a place that will never go out of style.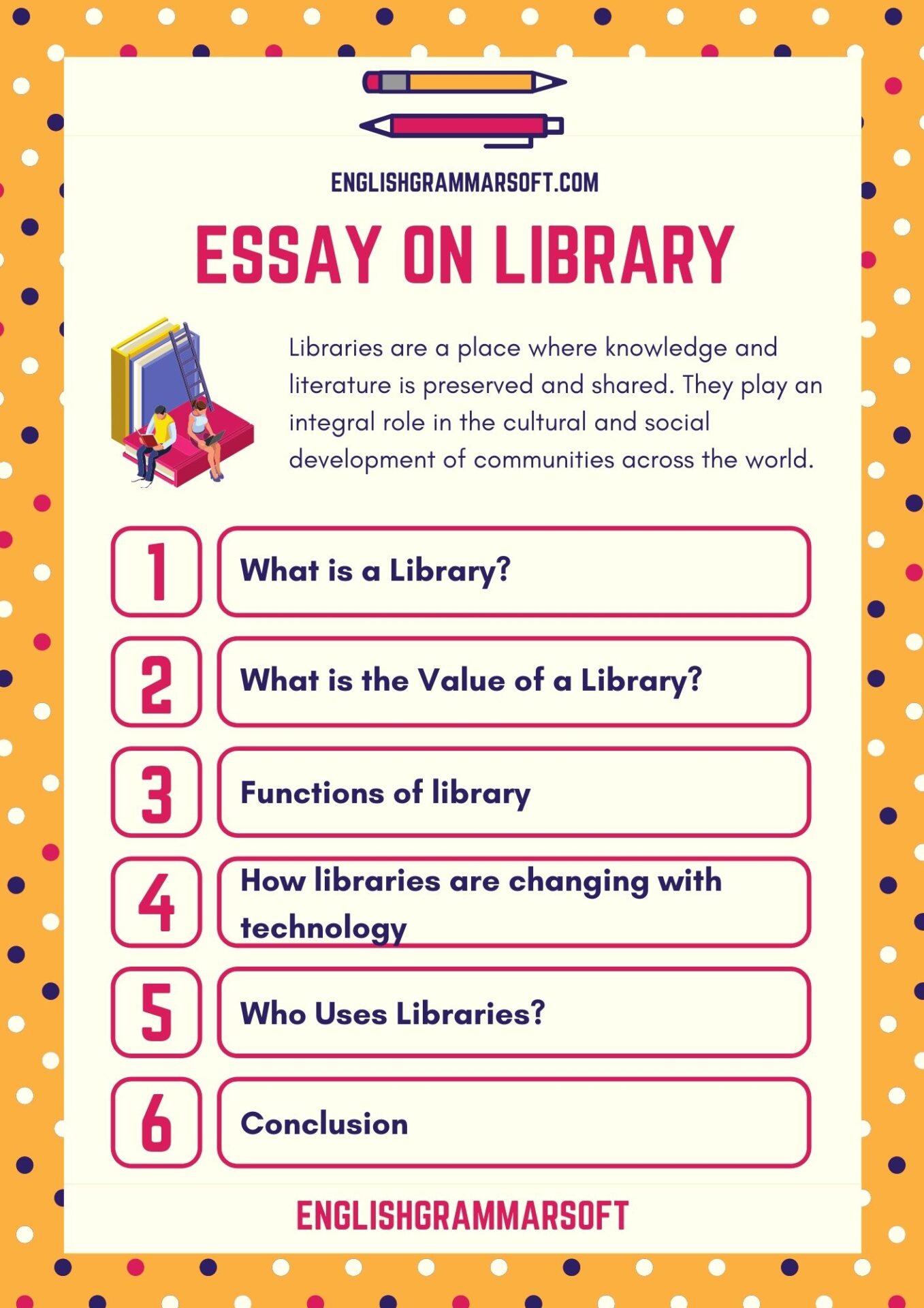 More on essays