Free Printable Adverb Chart (Anchor Chart)
Use this free printable adverb chart to visually break down adverbs into 11 categories. This anchor chart will provide you a quick overview of adverbs.
What are adverbs?
Adverbs are words that modify verbs, adjectives, or other adverbs.
Adverbs often modify verbs. For example: "He ran quickly." The adverb quickly tells us how he ran.
This table will show you a quick summary of 11 types of adverbs.
| Adverb Type | Definition | Words | Examples |
| --- | --- | --- | --- |
| Adverb of Manner | Describes how something happens. | loudly, badly, rightly, quickly, slowly | She walked slowly. |
| Adverb of Place | It shows the place of action. | inside, downstairs, outside, towards, up | He climbed up the tree. |
| Adverb of Time | It shows tells the time of action. | since, today, presently, now, tomorrow. | I will meet you tomorrow. |
| Adverb of Certainty | It describes how certain we feel about an action. | definitely, surely, probably, certainly | He may probably meet you. |
| Adverb of Degree | It describes to what extent action took place. | enough, too, hardly, quite | Do you have enough time to complete the assignment? |
| Interrogative Adverb | These are used to ask something in a sentence. | when, where, why, how | Where are you going? |
| Relative Adverb | Relative adverb adds meaning to a verb or another adverb | how, when, why | Tom did not tell me when he would come. |
| Adverb of Number | Used to express the numbers in response to questions | once, often, again, twice | I read this book twice. |
| Adverb of Quantity | Used to show the quantity in response to questions | very, too, little, much | I have little time to spend with nature. |
| Adverb of Purpose | Used to elaborate the situation | to avoid accident, to get back | He drove cautiously to avoid the accident. |
| Adverb of Frequency | It shows the frequency of piece of work | again, frequently, once, never | He often goes to the cinema. |
Adverbs Table
Printable Adverb Chart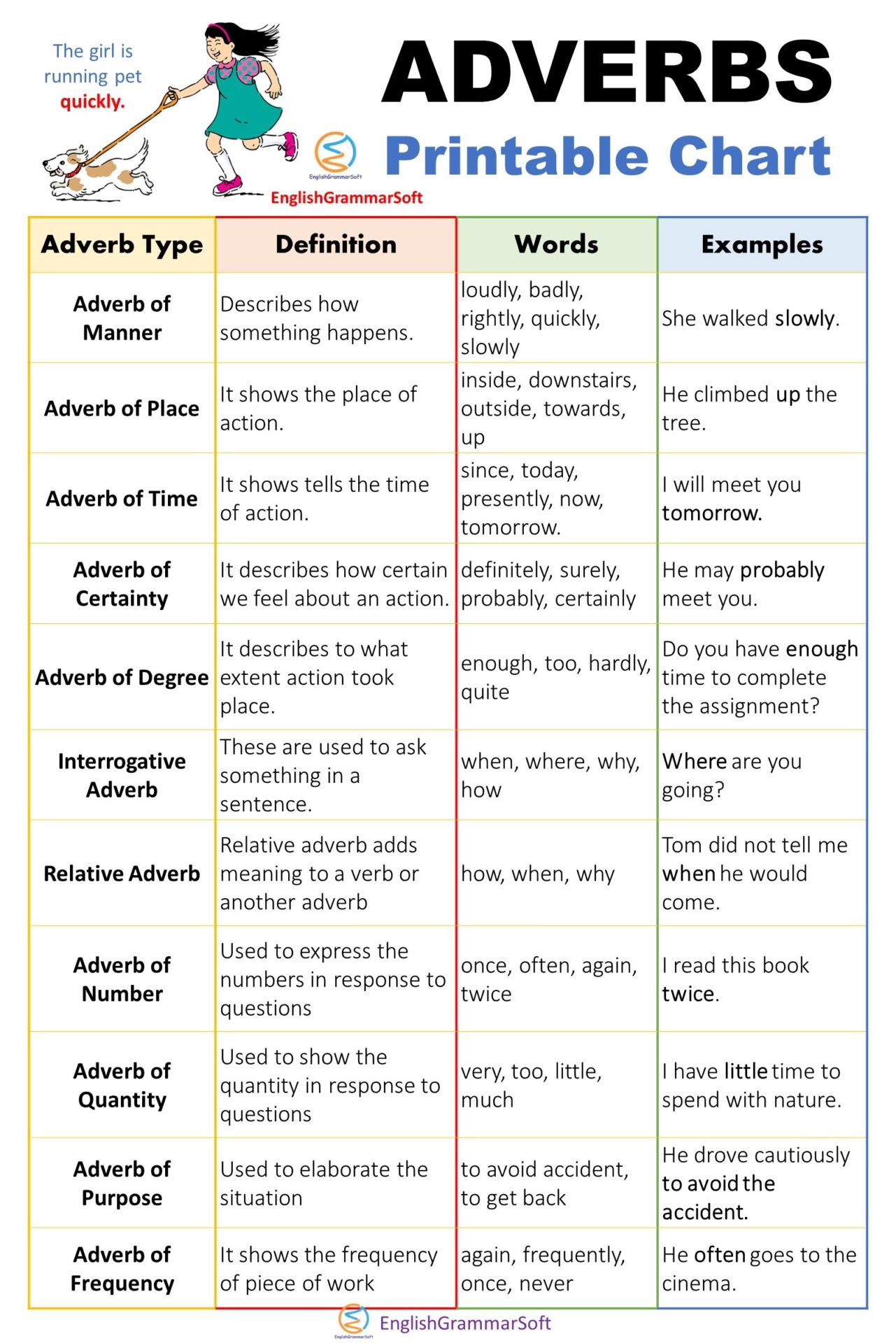 More to read