Adverbs Starting with 'c' (List & Example Sentences)
Here is the list of 123 adverbs starting with 'c' and 21 example sentences.
Example Sentences
Adverbs starting 'c'
Example Sentences
cagily 
The accountant cagily calculated the cost of the project.
calmly
The businessman calmly stepped in to save the day.
candidly 
The child candidly expressed her opinion to the teacher.
capably 
The staff capably carried out their duties with a smile.
carefully
We need to approach this carefully because our customers will be very upset about the change.
caudally 
We should always caudally move when cutting with the shears.
cautiously 
While adjusting to your management style, you must be cautiously aware of how the changes will affect team member interaction.
ceaselessly 
Always be ceaselessly on time for all your appointments.
centrally 
Make sure you are centrally located before you meet anyone.
centrally 
In the Middle Ages, caravans traveled along trade routes, mainly centrally located along major rivers.
chicly 
She wore a chicly patterned scarf with her tailored suit.
cheerfully 
The teacher smiled cheerfully at us and said it would be more fun if we all joined in.
cheery 
A cheery attitude is needed to do this work.
Clammily 
Clammily using social media should be left to professionals who are experts in the field.
Chronically
Chronically, most people prefer to spend free time with friends rather than with loved ones.
collectively
You can do this collectively by learning with others during office hours and via online collaborative learning tools such as forums.
completely
Clients only deal with one or two representatives who are completely dedicated to their account and ensuring they have everything they need to do their job.
comically 
Consciously or unconsciously, we connect with some documentaries much more comically than others.
consistently
There is only one way to increase sales consistently: offer a product or service that people will love and find convenient to buy.
carefully
confidently
Analyzing the words carefully, we can see that if we want to produce a good paper, then we must write confidently.
consciously
Amid a conflict, it is crucial to take a step back and assess the situation consciously instead of blindly following emotions.
adverbs starting with 'c' with examples
List (123 Words)
Cagily   
Callously
Calmly
Candidly
Canonically
Capably
Carefully
Carelessly
Caudally
Cautiously
Ceaselessly        
Centrally
Ceremonially
Certainly
Characteristically
Charmingly
Chattily
Cheekily
Cheerfully
Cheerlessly
Chemically
Chicly
Childishly
Chirpily
Chock
Chronically
Circumspectly
Circumstantially
Civilly
Clammily 
Classically           
Cleanly
Clearer
Clearly
Cleverly
Clinically
Closely
Cloyingly
Clumsily
Coarsely
Coaxingly
Cogently
Coherently
Cohesively
Coincidentally
Coldly
Collectedly
Collectively        
Colloidally
Comfortably
Comically
Commensally
Commercially
Commonly
Communicatively            
Compactly
Comparably
Complainingly
Completely
Comprehensively
Computationally
Concavely
Conceitedly
Conceivably
Conceptually
Concisely
Concretely
Concurrently
Conditionally
Confidentially
Confidently
Confusedly
Congenially
Conically
Conjugally
Consciously
Consecutively
Consequently
Conservatively
Considerably
Constrainedly
Constructively
Contagiously
Contemptuously
Contextually
Contritely
Conveniently
Conversationally
Conversely
Convincingly
Coolly
Coordinately
Cordially
Correctly
Corruptly
Coughingly
Courageously
Courteously
Cowardly
Cozily
Craftily
Cravenly
Crazily
Creakily
Creatively
Credibly
Credulously
Crisply
Critically
Croakily
Crossly
Crucially
Cryptically
Culturally
Cunningly
Curiously
Currently
Cursedly
Cursorily
Cussedly
Cutely
Cuttingly
Cynically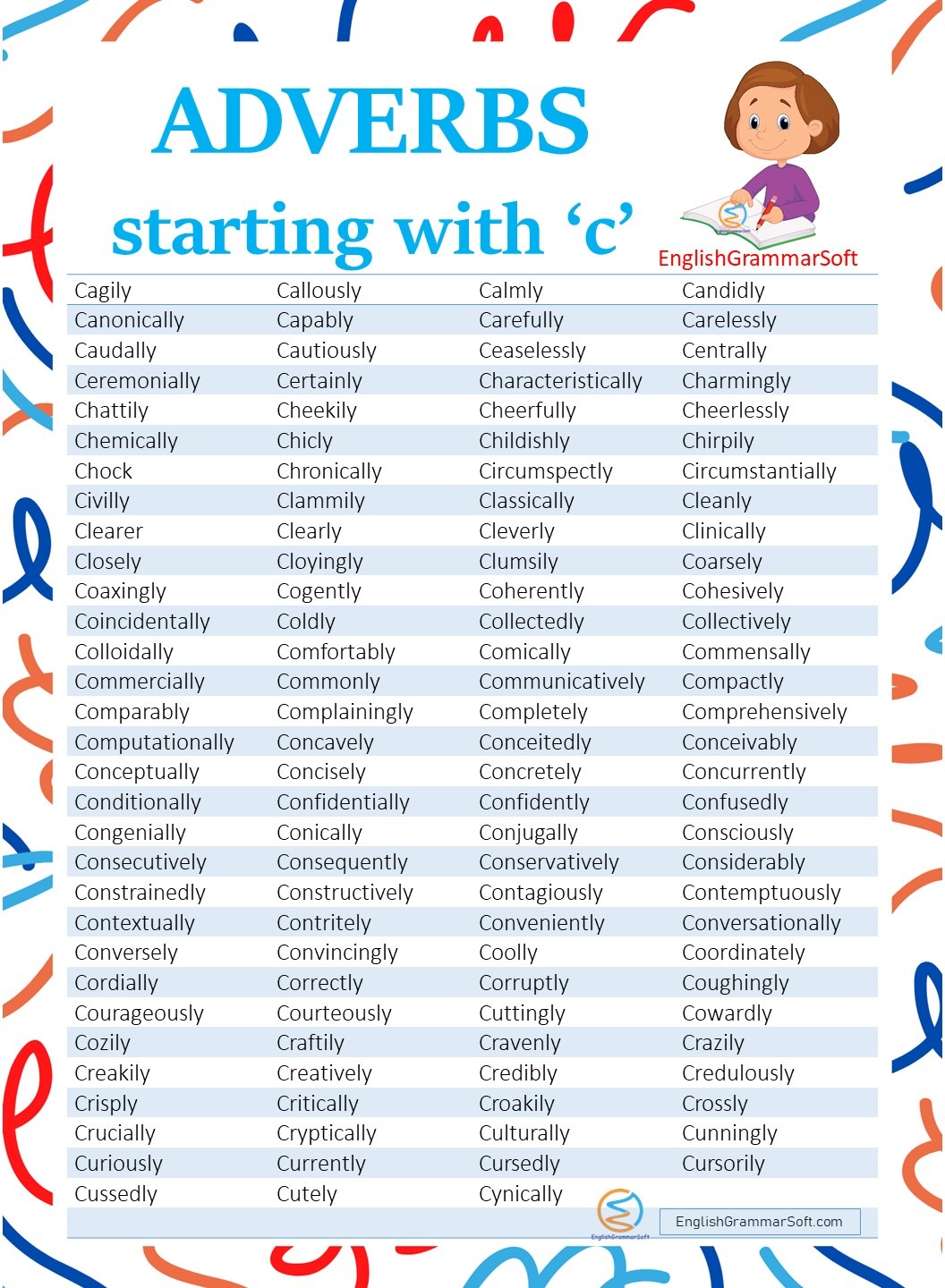 Read also